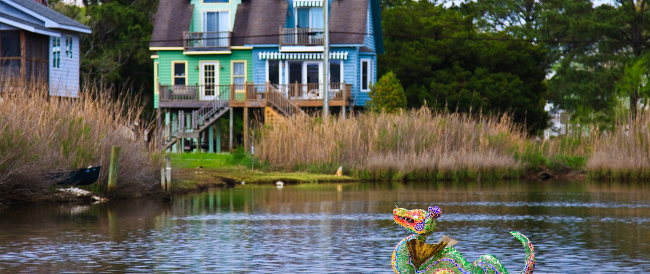 News from the 2/20/2019 issue
LOOKING BACK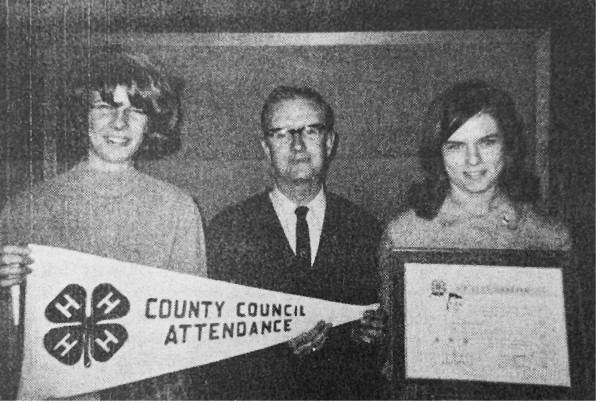 Pictured below on the left is Mona Sadler, receiving the County Council Attendance banner for the Hoboken " Sound Side" 4-H club. On the right is Betty Sue Sadler, accepting the official 4-H Club Charter for the Bayboro "Lucky Clover" 4-H Club. The presentations were made by Gary Warren, Assistant Agricultural Extension Agent. Mona and Betty are serving as President of their respective clubs. ( photo by Cindy Goodwin )
Holt's Chapel Community Center

From the Civil War on, African-Americans received little to no education in the public school system throughout the South. Schools for African-Americans were few and teachers were even fewer. Classrooms were overcrowded and teachers under qualified. Books and desks were all second hand, donated from white schools which no longer needed them. Under Jim Crow, African-American children were not encouraged to go to school and most ended up working at a young age. Teaming together, Julius Rosenwald and Booker T. Washington were determined to change that by building schools all through the South for African-American students. Julius Rosenwald was an American businessman and philanthropist. He was part owner and leader of Sears, Roebuck, and Company and established the Rosenwald Fund. Rosenwald met Booker T. Washington with whom he shared many interests. Washington asked Rosenwald to serve on the board of directors of the Tuskegee Institute in 1912. Washington encouraged Rosenwald to address the poor state of African-American education in the US, which suffered from inadequate buildings and books. Rosenwald provided funds to build six small schools in rural Alabama, which were constructed and opened in 1913 and 1914, and overseen by Tuskegee. In 1917, he established the Rosenwald Fund for the well-being of mankind.

Teacher- Mr. Ernest HiIl, SR T.C. Preston Taylor Teacher- Ms. BanksFrom L,R - Dessis Green, Eulamae Hodge, Dessie Bell Whitnetyfield, Elousie Hill, Beatric Toppins, Georgie B. Hodge, Nathan White, George Shelton Jr, Lennie White, Crosby Taylor, Dosthy Green, Narie Taylor, Sonny Whitney, Robert Gibbs SR, Joseph Shelton, John Green, Rubby Taylor, Nacy Hill.

Over the course of his life, his fund donated over $70 million to various institutions. The rural school building program was one of the largest programs administered by the Rosenwald Fund. The Fund donated millions of dollars in matching funds to support the education of African-American children in the rural South. It contributed more than $4 million in matching funds to the construction of more than 5,000 schools, shops, and teachers' homes in the South. These schools became informally known as "Rosenwald Schools."There were four Rosenwald Schools built in Pamlico County. One at Holt's Chapel, one at Mesic, one at Florence, and one at Bayboro. Holt's Chapel School is the only one left in Pamlico County and now serves as a community center in the Janerio community. The school at Janerio, Holt's Chapel, was opened in the 1920-21 school year and consisted of three main rooms. Two were used as classrooms, and the third room was used for indoor recess and other indoor activities. In addition there was a small room off to the front of the building which served as the school's library. Bathrooms consisted of outhouses behind the school. There was no cafeteria so students had to bring their own lunches. There was no school bus to take these students to school, so most of them had to walk to school, some as far away as four and five miles. Holt Chapel Elementary School had a professor, equivalent to a present day principal, and a teacher. The professor taught the upper grades and the teacher taught the lower grades. In its earlier years, the classes were referred to as primer through eighth grade and the teacher taught primer through fourth grade. These grades were equivalent to the present day kindergarten through eighth. Holt's Chapel School served the children who lived in the communities of Styron Town, Mattocksville, Kershaw, Holt's Chapel, and Lovick Neck.

Professor Earnest Hill was the first principal and Mrs. Banks its first teacher. Professor Hill was also pastor at Holt's Chapel A. M. E. Zion Church. After the departure of Professor Hill, the school was under the leadership of Professor Stanley and Mrs. Cooper. The next leaders were professor Lawson and Mrs. Lawson, a husband and wife team. Professor Johnson served as Principal and Mrs. Baker, Mrs. Leatha Wilson, Miss Viola Randall, Mrs. Alston, Gerald Saunders, and Mrs. Catherine Mann all taught at sometime during his tenure with the school. When Professor Johnson left the school, the new leader (no longer called professor) was Mr. William Sutton. Miss Annie Hall served as teacher. The school closed in 1963 with Mr. Sutton and Mrs. Hall being the last two faculty members of the school. When students completed the eighth grade at Holt's Chapel, they would go on to Pamlico County Training School in Stonewall, where the only high school for African-American students was located.One former student said, "we had a big potbelly stove and outdoor bathrooms. The light was oil lamps." The boys would cross road and go into the woods to cut wood for the stoves. There were multiple classes in each room. Grades one through four in one room with a teacher and grades five through eight in the other room with a second teacher. There were up to ten students in each grade making as many as forty students to a classroom and a teacher. With one teacher having to teach four grades in one room, there was a lot of down time for the students in which to study their homework or extra assignments while the teacher was working with another grade. On the other hand, with such a small school, there was a lot of one on one help in the school and older students often helped the younger students as tutors. Another former student said that it was a small school and everybody knew everybody and mostly everyone got along. "We had basketball out front and there was baseball and we put on plays and had Easter Egg Hunts." The school closed in 1963 with consolidation and the building was sold to the community which began using the building as a community center. Holt's Chapel School has operated as a community center since 1963. Since then, a men's development club was organized and raised money to improve the community, help the sick, aging, and the needy. In 1967, the poverty program extended into Pamlico County and the people of Holt's Chapel came together and formed a Community Organization under the supervision of Rev. Claude Davis, Jr., who gave the Community the initiative by constantly informing them of Coastal Progress Inc, and what they had to offer the community. After two years of hard-work and dedication, Coastal Progress Inc. then leased the building and hired a full-time aide for the community. Since then much progress has been made. Sewing classes, Basic Ed., Upholstery, and many other classes have been taught in the center. Senior citizens meet once a week for a class. They have made dolls, quilts, pillows, and stuffed animals. Recently, they have received a grant for $15,000 from the Marion Stedman Covington Foundation and a grant for $13,500 from the Jandy Ammons Foundation. These monies will be used to replace the leaky roof of the building. They are seeking funds to complete the restoration, rehabilitation and stabilization of the Holt's Chapel School now being used as the Holt's Chapel Community Center Inc. The work has been done to stabilize the floors sills and joist in the library and main classroom area. The bathrooms; formerly cloak or coal rooms, floors have to be torn out and replaced. The wiring was done in the early 70's and needs to be replaced. The building has no central heat or air, three space heaters produce enough heat for some short meetings.For more information contact Ms. Teresa Badger, President of the Holt's Chapel Community Center, Inc.. She can be reached at (252) 249-1251 or holtscenter@gmail.com.

---

Beasley Named First Female African-American Chief Justice

By Rick Henderson

Carolina Journal News Service

RALEIGH — Gov. Roy Cooper has picked the youngest member of the N.C. Supreme Court to its top position.Cooper named fellow Democrat Cheri Beasley, 52, an associate justice on the court, to succeed Republican Mark Martin, who is leaving the chief justice's post at the end of this month. Beasley also is the first African-American woman to be elevated to chief justice in the 200-year history of the state's highest court.Cooper wouldn't say whether he will name a Republican to fill Beasley's slot to maintain the current 5-2 partisan balance."To lead this court is to uphold the virtues of due process, equal protection, and justice for all North Carolinians," Cooper said.Cooper said Beasley has the high legal ability, decency, integrity, and devotion to public service required for the job. He called her the right person at the right time in defending his decision to bypass longer-serving Senior Associate Justice Paul Newby, a Republican who already announced as a chief justice candidate in 2020, and Associate Justice Robin Hudson, a Democrat.

Cooper said the people ultimately will decide whether Beasley and her replacement remain on the court. They would have to stand for election in 2020.Senate leader Phil Berger, R-Rockingham, issued a statement wishing Beasley well in her new role. But he said he was disappointed Cooper ignored a decades-old precedent of appointing the most senior member of the court as chief justice.

"A reasonable conclusion is that he decided to pass over Justice Newby because of his party affiliation," Berger said.N.C. Republican Party Chairman Robin Hayes was more blunt."Cooper's constant calls to keep our courts free from political interference rings hollow with this decision," he said in a written statement. Martin's last day as chief justice will be Feb. 28. He is stepping down to become dean of the law school at Regent University in Virginia Beach, Virginia. If Cooper names a Democrat to replace Beasley, the party would hold a 6-1 majority, with Newby the only remaining Republican. Asked if he would name a Republican to replace Beasley, Cooper said he was going to pick the best person for the job among many qualified candidates, some of whom previously served on the Supreme Court. He said he would decide in about a week.

Beasley invoked the memory of civil rights leader Martin Luther King's love for humanity and service. She said the symbolism of her appointment during Black History Month, and the sense of historic change, weren't lost on her. "This is certainly not the North Carolina of 200 years ago," she said.

"The other thing I think about is the little girls along the way who ought to have a sense of promise, and hope for their futures," Beasley said. She hopes to be an inspiration for them.In another matter, Cooper said he soon will announce when a special election would be set to fill the seat of U.S. Rep. Walter Jones, R-3rd District, who died Sunday. Interest is high among potential contenders for that seat.He said discussions continue with the State Board of Elections and lawyers to ensure all state and federal laws controlling special elections for Congress are met.

---

Pamlico County High School to Host Coastal Plain Conference Basketball Tournament

Submitted by Henry Rice, Pamlico County Schools Director of Student Services

With both Hurricane teams winning the Coastal Plains Conference regular season titles, the Canes will host the semi-finals and finals in both the women's and men's tournaments.The first round games will be held at the high seeds on Monday night. In the men's tournament first round, Tarboro will host Jones Senior, Riverside will host Southside and Northside will host South Creek. In the women's tournament, Northside will host Southside, Riverside will host Jones Senior and Tarboro will host South Creek.On Tuesday night beginning at 6:00 at Pamlico County High School in the women's tournament, the winner of the Riverside/Jones Sr. game and the winner of the Tarboro/South Creek game will meet in the semi-finals. In the other semi-final game, the Hurricanes will host the winner of the Northside/Southside game. That game is scheduled for approximately 7:30.On Wednesday night beginning at 6:00 at Pamlico County High School, in the men's tournament, the winner of the Riverside/Southside game and the winner of the Northside/South Creek game will meet in the semi-finals. In the other semi-final game, the Hurricanes will host the winner of the Tarboro/Jones Sr. game. That game is scheduled for approximately 7:30.The Championship games will be held on Friday, February 22. The women's game will begin at 6:00 and the men's game will begin at approximately 7:30.

---

Drug Investigation

Pamlico County Sheriff's Office

Sheriff Chris Davis

On Monday, February 18th, 2019, the Pamlico County Sheriff's Office conducted a drug investigation at 1402 Lynch's Beach Loop Road, Bayboro, NC. Acting on a citizen complaint regarding illegal drug activity at the residence, the Pamlico County Sheriff's Office, along with the assistance of North Carolina State Bureau of Investigation (NCSBI) and North Carolina Department of Marine Fisheries (NCDMF) Marine Patrol, executed a search warrant at the suspect residence.Deputies seized cocaine, prescrip-tion medication, and marijuana during the search of the home. Additionally, a large sum of bullion and precious metals, thirteen long-guns and rifles, and six handguns were seized by law enforcement. Johnnie Gray Mercer was arrested as a result of the investigation.The investigation is ongoing, and additional charges are expected upon receiving NCSBI Crime Lab Analysis results.Johnnie Gray Mercer, 65, of 1402 Lynch's Beach Loop Road, Bayboro, NC was charged with the following crimes:

PWIMSD SCHEDULE III

PWIMSD SCHEDULE IV

PWIMSD SCHEDULE VI

FELONY POSSESSION OF COCAINE

Johnnie Gray Mercer was placed in the custody of the Pamlico County Detention Center under a $1,000,000.00 secured bond, and a 2/22/19 court date in District Court of Pamlico County, Bayboro, NC.