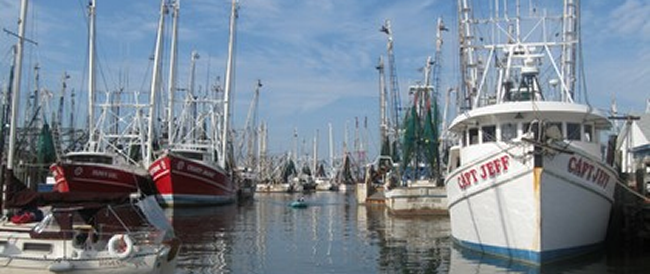 News from the 8/16/2017 issue
Looking Back....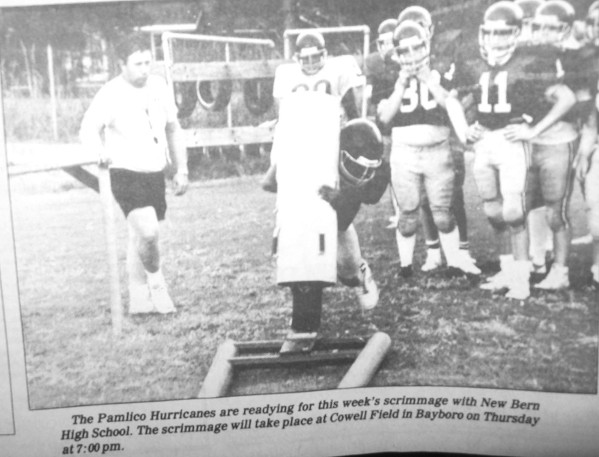 Partnerships Make Things Happen

Sometimes we sacrifice things to live in a small county. Then again, sometimes we gain something big and beautiful, like genuine partner-ships that really make a difference and often make some of our larger neighbors a little envious. Pamlico County is a place where partnerships work because we are small enough to know, respect and need each other in order to better our community. The people who are engaged in partnerships to better our community live and work here because they love it and genuinely desire to make a positive impact. When they collaborate, great things can actually happen to improve circumstances for us all.

A consistent partnership that has made a significant difference is Pamlico County Chamber of Commerce, Pamlico County Economic Development, along with Pamlico Community College/ Career Center. These organizations have a proven track record of working together and with others. This has been to the benefit of our businesses, community and non-profits and promotes the economic, educational, and civic well-being of our County. The results of this partnership are an improving business environment via networking, joint studies, county wide co-op marketing efforts, an increase in tourism and real estate activity, and a strengthening of the economic viability of some businesses.

The 2017 SPOTLIGHT Pamlico Business EXPO/Job Fair is another collaborative effort between Pamlico County Chamber of Commerce as the lead organization, along with the Pamlico Community College Career Center and Pamlico County Economic Development.

The EXPO/Job Fair will be held on September 19th from 4-7pm at Pamlico Community College's Delamar Center. Last year we had over 450 attendees. Response from vendors and attendees was positive, and we expect a similar outcome this year.Attendees enjoy sampling food from local restaurants, live music played by local musicians, door prizes and have the opportunity to visit with friends while seeing what their local businesses and non-profits have to offer.

To add to the excitement, our participating local restaurants compete for the "Taster's Choice Award" and "Judges Choice Award."Several years ago, the Pamlico County Chamber of Commerce started "Shop Local" to encourage people to support their local busi-nesses. Our EXPO/Job Fairs consistently have a theme that reminds our citizens to become educated about locally available quality goods and services. The Chamber of Commerce continues the Shop Local initiative by encouraging shoppers to turn in receipts from Chamber mem-ber businesses and be entered to win $100 in a drawing. The fall quarterly "Shop Local" drawing will be held at the SPOTLIGHT Pamlico EXPO/Job Fair.If you are interested in participat-ing as a vendor or a sponsor, we encourage you to respond quickly. Booth spaces fill quickly and placement is on a sponsorship and first come, first served basis. You may participate even if you are not a Pamlico County Chamber of Commerce member. If you are a member or join the Chamber you will receive a discounted vendor booth rate. Joining the Pamlico County Chamber of Commerce is inexpensive and results in a lot of exposure and promotional opportunities for your business or organization. If you are a business or non-profit from a surrounding county that serves needs in Pamlico County, we welcome you to become a member too.

Annual membership costs for businesses with: 1-9 employees pay $125; 10-100 employees pay $180; and businesses with 100 + employees pay $350. Non-profits rates are: 1-4 employees pay $55 and those with 5+ employ-ees pay $105. An individual may join for $45 per year. For those interested in joining the Pamlico County Chamber of Commerce or for more information on the 2017 SPOTLIGHT Pamlico EXPO/Job Fair, please contact Joyce Swimm: Phone 252-745-3008 or email, executivedirector1@embarq-mail.com. If you are seeking employees and need a booth in the Job Fair section, please contact Eric Cedars at 252-745-9934 or Ecedars@pamlicocc.edu.

We will see you September 19th from 4-7pm at Pamlico Community College's Delamar Center where you can be a part of SPOTLIGHT Pamlico. In the meantime, spread the word - tell your friends and share it on Facebook. Together we can make it a resounding success and have fun. Thanks!

---

Gaskins, Jr. To Receive Air Force Combat Action Medal

Gaskins in a recent photo from his last deployment (9th) overseas.

Staff Sergeant David Gaskins, Jr., Aerial Gunner (AG) with the 4th Special Operations Squadron, The Ghostriders, was recently recommended for the Air Force Combat Action Medal from Major Humberto J. Centeno, Commander, 16th Expeditionary Special Operations Squadron, Air Force Special Operations Command and approved by Col. Kevin A. Cabanas, Joint Special Operations Air Component.Gaskins, son of David and Sherry Gaskins of Minesott Beach, is sta-tioned at Hurlburt Field, Florida with the 4th Special Operations Squadron, USAF.

On February 9, 2017, Sgt. Gaskins' AC-130U Gunship was engaged by a Surface to Air Missile (SAM) while conducting Close Air Support (CAS) as an Aerial Gunner during combat operations over ISIL-held territory in Syria. The engagement occurred while conducting CAS for coalition forces assaulting a city under ISIL control. Operating over the city placed the aircraft within the weapons engagement zone of air defense artillery and SAMs known to be in the enemy's possession. Shortly after conduct-ing terrain denial fires, Sgt. Gaskins aircraft was engaged. The SAM was launched from 2 NM inside the AC-130 orbit.The SAM tracked the aircraft and was defeated with countermeasures less than 500 feet from impacting the aircraft.

After being alerted to the incom-ing missile by the pilot, Sgt. Gaskins led his gun crew, which comprised of gunners and scanners, to defend the aircraft. His gunners expertly dispensed countermeasures, safed weapons and secured ammunition all while the gunship was being maneuvered away from the missile. Actions complete, Sgt. Gaskins assumed additional scanner duties to alert the crew to follow up attacks. Due to the swift, thorough and individually distinctive actions of Sgt. Gaskins, the crew defeated the enemy attack which could have resulted in the total loss of the aircraft and all 14 crew members on board.

The Air Force Combat Action Medal is awarded to recognize any military member of the Air Force (airman basic through colonel), who actively participated in either air or ground combat. The principle eligibility criterion is that the individual must have been under direct and hostile fire while operating in unsecured space or physically engaging hostile forces with direct and lethal fire.

For purposes of this award, the combat conditions are met when: Individual(s) deliberately go outside the defended perimeter to conduct official duties, either ground or air, and come under enemy attack by lethal weapons while performing those duties, and are at risk of grave danger.

---

It's That Time! The Annual "Back To School" issue of The Pamlico News will be coming out on Au-gust 23. Promote your business in this very popular issue or sign up to be a "School Page" Sponsor and show your school support all year long. Contact The Pamlico News at 252-249-1555 or Advertising Representative, Angie Wilson, directly at 252-944-5750.

---

New Academic Year Brings Big Changes For PCC Instructor

Terri Fesmire-Kennedy is the new Business instructor at Pamlico Community College. Her offic is in the Brinson building. Contributed photo

By Sandy Wall, Pamlico Community College

August is shaping up to be a pretty significant month for Terri Fesmire-Kennedy and her 5-year-old son, Tucker. That's because both of them will be starting the academic year at new schools.Tucker is starting kindergarten this month at a primary school in Morehead City, while his mom begins a new job as Business instructor at Pamlico Community College.Fesmire-Kennedy is taking over as PCC's full-time Business instructor from Rebecca Pesko, who recently accepted the job as the college's Director of Institutional Effectiveness.

Pesko has no worries about her replacement, saying the 32-year-old Carteret County woman will do a great job."We are so happy to have Terri join our family at Pamlico Community College," Pesko said. "Over the past week, I have enjoyed discovering her extensive experi-ence in the community college system, her passion for students and her enthusiasm for growing the Business and Accounting programs. She is a wonderful addition to our faculty."

Fesmire-Kennedy comes to PCC from Carteret Community College, where she was an adjunct Business instructor. She also served in that college's registrar's office and worked for a time in the Carteret County's Planning and Inspections office.

Fesmire-Kennedy grew up in Pine Knoll Shores and graduated from West Carteret High School in 2003. She went on to college, but wasn't immediately certain what she wanted to study."It took a while before I figured out what I wanted to be," Fesmire-Kennedy said.She thought about pharmacy and even gave middle school education a try, but nothing quite fit. That's when she decided to study business, figuring that the field could lead to career options in a variety of areas.

"It's so broad, as far as what you can do with it," Fesmire-Kennedy said. She went on to earn a bachelor's degree in Business Administration from East Carolina University and an MBA from Ashford University. Fesmire-Kennedy is now back at ECU working on a master's degree in Adult Education. She encourages men and women to consider studying Business because of its versatility."Most of the students I have run into are looking to start their own businesses," Fesmire-Kennedy said. "You can do that, you can run a business, and you can consult for businesses. There are lots of options. I like the well-roundedness of it."

Business and Accounting courses also introduce students to real world skills, including managing account books and preparing tax documents, she said. PCC President Dr. Jim Ross said students who enroll in the college's academic programs can discover many career pathways.

"Some students who enroll at the college know exactly what they want to do, while others are searching for their passion," he said. "Our instructors can help them find the right educational path." Fesmire-Kennedy says she's excited about the new aca-demic year and her new opportunity at PCC. She is scheduled to teach seven courses, some seated and some online. They include classes in Business Administration, Accounting, Economics and Banking.

So whose upcoming first day of school is Fesmire-Kennedy more nervous about? Young Tucker's, of course."His, for sure. He's so small," she said with a smile. "It makes me want to cry."

There's still time to register for the Fall 2017 semester at Pamlico Community College. Call 252-249-1851, ext. 3001, to learn more.

Sandy Wall can be reached at 252-249-1851, ext. 3010, or swall@pamli-cocc.edu.