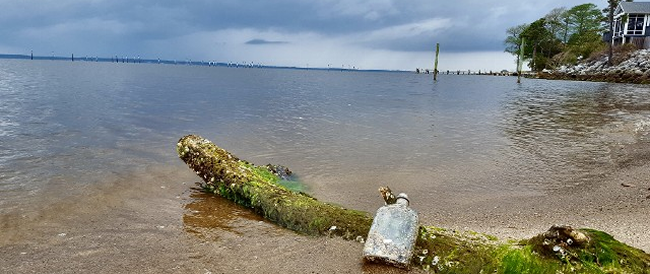 News from the 9/5/2018 issue
Are you my mother?

PD Eastman, a children's author gave us the story of an egg left in a nest while the mother flew off to find food. While gone, the baby hatches. Not yet able to fly, he walks away and inquires of a number of critters, "Are you my mother?" Not held captive by the notion that birds of a feather flock together, Dianne Midness was quick to seize a moment with her camera. Midness used a Panasonic FZ47 digital camera to capture this unusual photograph of a woodpecker and a heron at Minnesott Beach. She said, "I had to zoom in to get it. She explained the circumstances that led to the capture of this image.

"I was taking a young friend from Taiwan to Shackleford Island, but we missed the ferry. We had time to go to the dock by the Minnesott Country Club where I was certain I could show him woodpeckers. Seeing these 2 birds in such close proximity was a great surprise for us. I went back recently and saw what appeared to be the same 2 birds on the same limbs. This time they had been joined by a juvenile redhead."

Perhaps the notion that birds of a feather flock together should be extended to, "Birds of different feathers roost on limbs together."

---

Celebrating " County"

all of it ... Silver Hill to Minnsesott, Olympia to Lowland

The Pamlico News made first trip to a printing press in the summer of 1968. My family has been at the helm of this ship the last 40 of those 50 years.

Throughout this half century, hurricanes havoded the newspaper's out we did not drown. We didn't sink when letterpresses gave way to offset printing; we didn't need a life preserver when we adapted to digital offset printing. Even when the Internet tried to swamp print media, The Pamlico News held its ground. We are still underway, making way.

The Winfrey family has always relied on its most important partner, The County, to survive and thrive. To express our gratitude to residents and businesses of the county for helping us reach this milestone, it's a no-brainer that The Pamlico News celebrate our Golden Anniversary by celebrating The County.

Beginning the next half century, a "from here" is sitting at the editor's desk. He made it clear thst day he was in the newsroom that he was going to set a course to cover a beat from Olympia to Lowland, Silver Hill to Minnesott. He is ably assisted by a couple of "come heres" in the press room. Just like The County, this newspaper is a blend of the best from here and from off. The editor calls one of these guys his Linus blanket.

Our 50th anniversary edition rolls ohe press Wednesday, September 12. Please join us and support us as we begin another half century of publishing. For a reliable and fair-minded source of local news, The County needs us. To publish a reliable and fair-minded newspaper, we need The County. It's a win-win if we are partners.

Please join us for a slice of our birthday cake, Wednesday, September 12, 2 - 4 pm at the newspaper office, 880 Broad Street, Oriental. We want to share this happy and momentous occasion with the people who made it possible ... you.

Sanderson I. Winfrey

Publisher

---

She's back ... with the captain who never left.

The Floyd J. Lupton is back at Minnesott-Cherry Branch. One of its first captains never left. The M/V Floyd J. Lupton first arrived at the Minnesott - Cherry Branch ferry run across the Neuse River in 2000. Captain David Moore's crew welcomed Floyd Lupton for a tour of this state-of-the art double ended vessel when she was put in service. Over time, the Lupton was pulled away on several occasions for duty at other ferry crossings on the North Carolina coast. Captain Moore remained on duty at the Neuse River crossing. This ferry serves as the bridge to work at MCAS Cherry Point and other Eastern Carteret and Craven County work sites for large numbers Pamlico County residents. School buses, commercial vehicles, and tourists constitute another large portion of traffic across the Neuse. Regular riders are ecstatic to see the Lupton back at what they deem to be her home port.

She carries at least ten vehicles more per trip than the smaller ferries and can operate in more adverse weather conditions than the older vessels. There is also a larger lounge for relaxation and a larger observation deck for passengers who like to leave the confines of their vehicles for the 15 minute ride across the river. Unlike traditional propellers, the Lupton has a cycloidal propulsion unit at each end of the vessel. Identical helms are located at each end of the pilot house. Captain Moore pulls into a terminal using the helm at the end of the pilot house that is facing the dock . When he departs for the trip back across the river, he switches to the other helm, never having to back up and turn around as the older ferries do that are propelled by one set of propellers located under the stern of the vessel.

Floyd J. Lupton was the Chief of Staff for the late congressman, Walter B. Jones, Sr. He died in May, 2005; he was 82. The vessel was constructed and placed in service under the tenure of former ferry division director, Jerry Gaskill, from Cedar Island.Captain Moore expressed the same excitement and gratitude that many passengers expressed when the Lupton arrived for another tour of duty crossing the Neuse.

---

Tideland EMC now prefers targeted herbicide applications over mechanical mowing

The Pamlico News received a phone message on Tuesday, August 28 from an individual who had witnessed a worker, allegedly working for Tideland Electric Membership Corporation, spraying along a high-way right-of-way near Whortonsville. Concerned that the spraying was a repeat of the type of spraying 2 years ago that left a broad band of dead foliage along many county roadways, and also alarmed that the residue might create harmful run-off for wildlife and fish stocks in local creeks and rivers, the caller was hopeful that the newspaper could investigate. The Pamlico News contacted the regional office Tideland. Heidi Smith, Manager of Marketing & Corporate Communications for the electric cooperative, responded with the following information.

In August 2017, Tideland EMC shared with its members details about the co-op's decision to discon-tinue mechanical mowing of its utility right-of-way in favor of targeted, low-volume herbicide application. Tideland owns 2,594 miles of line with 1,589 miles designated as primary distribution overhead. Only 575 miles of line are underground with most being located in subdivi-sions that opted to pay a premium to have services buried largely for aesthetic purposes. Members with underground service also pay an additional monthly maintenance fee because the costs to repair and replace underground lines are significantly higher than overhead services.

The co-op's maintenance responsi-bilities include vegetation management up to 15 feet on either side of distribution lines. Within that right-of-way are approximately 91,630 trees Tideland must manage with side trimming, and at times, removal when a tree is diseased or dying. To reduce outages, the co-op moved from a seven-year trim cycle to a five-year cycle in 2005. Tideland's annual tree trimming costs average $750,000. Brush in the co-op's right-of-way has been mowed on a two-year cycle. Much of that right-of-way Tideland never mowed because it is either actively cultivated or maintained by another party. That leaves approximately 810 acres of brush that the co-op exclusively maintains in Tideland's six county service territory.

Vines have traditionally been cut and removed by hand but not treated to inhibit future growth. Areas that could not be reached by mechanical mowers were treated with herbicides. While mowing visibly cleared the right-of-way for a short period of time, it removed desirable vegetation, degraded wildlife habitat and left the underlying mature root system intact of undesirable woody species. That root system produced new, denser growth, further crowding out desirable plants and grasses, and could be several feet tall before the next mowing cycle. Such growth impeded utility vehicle access and line crews were often forced to walk equipment into remote areas and climb poles instead of using bucket trucks. Therefore, the co-op decided to expand its existing herbicide program to eliminate the need for mechanical mowing.

While several herbicide application methods exist, Tideland opted for the least intrusive and most tar-geted approach. Contractors from Progressive Solutions wear backpack containers and use handheld wands to target herbicide application on brush, saplings, vines and other woody stemmed species. They are able to cover about 200 miles per week on foot. The four products they use are Dow Agrosciences' Rodeo and Milestone, BASF Agricultural Products' Arsenal, and Bayer's Escort XP. Spraying for 2018 will be complete by September 4. The application will be repeated next year to make sure woody species have not reestablished and that grasses and wildflowers are thriving in their place.