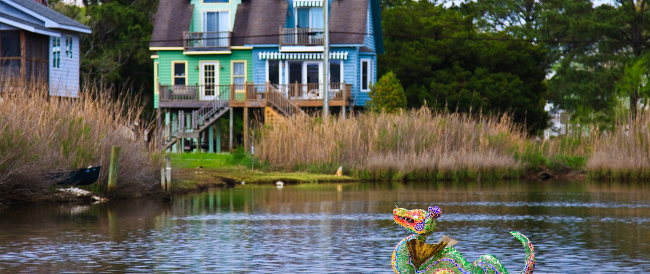 This Week's News For February 12, 2020

HOPE Clinic Gets New Director


Mrs. Yolanda Cristiani has been hired as the new Executive Director of the HOPE Clinic located in Bayboro. She replaces Sheri Rettew who resigned in December. Mrs. Cristiani grew up outside of Ashville, NC but has lived here in the county for the past seven years. She has been a nurse and worked in physician offices and worked a short while in nursing homes. But for the most part she has working in the administrative side of the medical field. They moved to Pamlico in 2013, and she began volunteering with the clinic shortly thereafter. Ms. Rettew asked her to become a pharmacy coordinator. When she arrived at HOPE, there were a lot of systems in place on the administrative side of practice. "I was their clinical coordinator when they put me in that role, staying there until last April." She said about working with HOPE, " I really do love the patients." She began her new duties at HOPE January 31st.
She said that her main job would be as a face for the clinic and being there to talk to other practices and may help with the care of the individual patients. " She looks forward to providing specialty services through other agencies that they are not able to provide directly at HOPE. They rely on volunteer physicians and especially the Carolina's physician group. When asked what her primary focus would be, she replied, "I think being able to meet those people ad create those relationships is a huge focus. That's one of my goals so I can get to know all these people." She went on to say "I definitely have some learning to do, and hopefully be able to be a good background like Sheri was with data and statistics. That is what I need for grants and for requests for funding."
Hope Clinic was founded in 1999. It started as a ministry out of St. Thomas Episcopal Church and a group of passionate volunteers who saw a need for free health care for our uninsured population and people who were low income. There is a lot of poverty in Pamlico County. They connected with Dr. Richard Hudson who was a long time county resident and community leader. Dr. Hudson was the medical director of Hope Clinic for a long time until he retired. At that point, the clinic operated with volunteers. Everyone volunteered for quite some time, for approximately eight years. Therefore, volunteers were doing all the functions of the clinic and they would see patients on Thursday evening.
The clinic has gone through a lot of operational changes over the years as the demands have grown and health care become more complicated. At that point, they hired their first director. Over the years they had several directors. Ms. Rettew was hired in 2013 and she has held that position until resigning in December. Half the people of the county live in poverty and you have to meet people where they are. Our population in the last 100 years has grown only about 4000. When you realize our population hasn't changed, it speaks to how long it takes to positively impact a culture. When Ms. Rettew arrived as Executive Director, the clinic was mostly volunteer. She transitioned it to one with a paid staff who would be on duty every day. Volunteers are still utilized along with the paid staff. HOPE clinic serves people in Pamlico, Craven, Jones, and Beaufort counties. Mrs. Cristiani said that the clinic has close to 700 active patients.
The clinic receives money from a number of places including donations and grants. Their main fun raising even is the Gala which they have every spring. It is held at River Dunes and consists to two nights of entertainment and fun. The event will be held on May 15th and 16th. Friday night will consist of barbecue and music. Dennis Brinson will be cooking the barbecue again this year. Friday night is casual while Saturday night is semi-formal. The Saturday night dinner will be catered by the Flame in New Bern. It is usually semi-formal or river chic. They will have a band for dancing as well as a live auction. In addition to the live auction, tickets will be sold for the $10,000 drawing. There will also be a 50-50 drawing. Tickets for the gala will be available soon and are $15 per person for Friday night and Blues, and $75 per person for Saturday night. Sponsorships for the gala are available at different levels of giving.
For more information on HOPE clinic, to schedule a medical appointment or to purchase Gala tickets, call (252) 745-5760.

___________________________________________

CENTURY 21 SAIL LOFT REALTY EARNS TOP PRIZE IN NATIONAL REAL ESTATE COMPETITION FOR 3RD-PARTY RATINGS & HOME LISTINGS GROWTH


ORIENTAL, NC (February 11, 2020) In a national competition featuring thousands of CENTURY 21 offices across the country called Fantasy21, the relentless team at CENTURY 21 Sail Loft Realty, led by broker/owners Suzanne and Larry Gwaltney, earned top prize. Fantasy21 was a CENTURY 21 systemwide football-style competition where brokers and owners competed on QSS (quality service survey) scores, home listings, and recruiting new relentless talent. In earning its victory, CENTURY 21 Sail Loft Realty received an extraordinary package that included four tickets to the big game in Miami, plus expense-paid flights and hotel.

Fantasy21 fit perfectly into our carefully-crafted culture because we take pride in giving 121% and delivering extraordinary, personalized services to our clients along every step of the process, and we have fun as team doing so, said Ms. Gwaltney, whose company has been proudly waving the C21 banner since 2005. We were the first real estate company in Oriental, and for over 40 years, we are proud to be active members of this sailing community and to do our part in maintaining its beauty and way-of-life.

The first-round, or the regular season of Fantasy21, ran from October through December 2019. Regular season winners then competed in four, week-long, head-to-head matchups from December through January 2020, with CENTURY 21 Sail Loft Realty earning the championship.

This was fun, but the beauty of the competition centered on how we as a company can better serve our clients by leveraging the platform and resources that the CENTURY 21 System offers, added Gwaltney. Our collective goal is to become the real estate brand of choice for consumers in Oriental and throughout Eastern North Carolina.