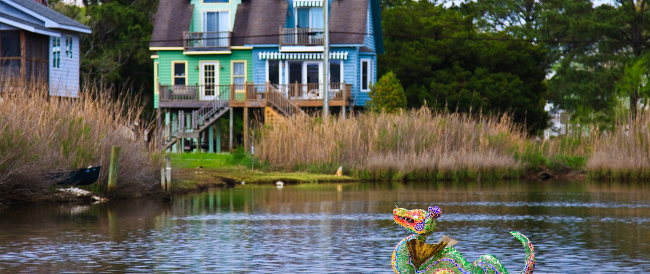 This Week's News For 9/18/2019

NOTICE FROM ORIENTAL TOWN MANAGER DIANE MILLER

In light of the Vibrio infection experienced by several residents during Hurricane Florence, please DO NOT WADE IN FLOOD WATERS.

---

Murphy Wins Congressional Seat

Dr. Greg Murphy soundly defeated Allen Thomas in the general election to fill the Congressional seat left by the death of Congressman Walter B. Jones. Murphy won the seat ith 70,142 votes to Thomas' 42,570 votes. In addition, Tim Harris carried only 393 votes and Greg Holt carried only 502 votes. With Murphy winning with 61.7% of the total vote, there won't be a runoff between Murphy and Thomas. Murphy, who defeated Dr. Joan Perry in the Republican Primary, campaigned as a consistent conservative and on his strong support of President Trump. He said that he "believed in a traditional interpretation of the Constitution" and that his goal was to decrease the size of the federal government.

In addition he said he would support a balanced budget amendment. Allen Thomas emphasized economic development and improving access to health care. Harris stated that he was running to fight for an end to foreign wars, an end to tariff wars, and for an end in a terrible domestic policy. Holt ran on the promise to return the government back to a limited Constitutional government.

The third congressional district is made up of 14 counties in the eastern most part of the state. Those counties are: Currituck, Chowan, Tyrrell, Dare, Hyde, Beaufort, Pamlico, Craven, Carteret, Pitt, Onslow, Pasquotank, and Perquimans counties.

---

The Hurricanes Cross Country Women's Team Placed Third Overall

The Hurricanes Cross Country teams competed at the Northside Panther Invitational in Beaufort County, on the same course where the east regional meet will be held in November.Our women placed third overall, beating all 1A opponents but one. The top seven women finishers were Cameron Lee, Macy Tyson, Trinity Goswick, Julissa Beltran, Victoria Sylvester, Perla Cervantes and Shania Locklear.

---

New Recycling Program in Craven

Originally published by Sun Journal Staff

Craven County residents have begun receiving the new, lime green containers that will be used for Waste Industries new monthly recycle program.Beginning on October 7, Craven County will change their recycling pickup from the current once a week schedule to once a month. To accommodate the change, residents will be issued a 96-gallon container and will have the option to keep or recycle their 18-gallon bins.

---

BBQ, Beer and Brant Island Strings Fundraiser Raises Scholarship Funds

At Pamlico Community College Foundation's (PCCF) August 30 fundraiser at New Village Brewery in Oriental, an appreciative crowd feasted on Jim Kellenberger's whole hog BBQ while listening to the music of Brant Island Strings. PCC instructor Ronda Rosenbalm, whose daughter Jordan Baker is a student at PCC, spoke of the value of postsecondary education and how scholarships have helped them both focus more on their studies and worry less about how to pay for them. PCCF, Inc. is a 501c3 organization. It is the fundraising arm of the college. PCCF thanks the sponsors and volunteers who made the event possible, particularly Jim and Leslie Kellenberger for providing the food and Frank and Lili Bacon of New Village Brewery. Photos clockwise from left, the event banner, PCC instructor Ronda Rosenbalm, event attendees, Brant Island Strings.

---

Guess How Many pieces of candy corn in the jar for a chance to win a four-pack of tickets to the Craven Jaycees 2019 Fall Fair that include admission and unlimited rides! We have four sets of tickets so please email your submission to frontdesk@thepamliconews.com. Fair runs September 26 through October 6. The four winners will be announced in the September 25 issue of The Pamlico News.

---

Daisy Miller: Living With Hurricane Florence

One of the positive stories of Hurricane Florence takes place at Daisy Miller's home in Maribel. When the hurricane came in and threatened Pamlico County, Mrs. Miller and her granddaugh-ter, Bertha along with Sherman Smith left Maribel and went to New Bern to ride out the storm with Mrs. Miller's son and family. The next day, when the hurricane was over, Bertha and Sherman went to Maribel to check out the condition of their home.

Upon returning home, they found that it was unlivable. There was a line on the walls where the flood water had come up. The furniture and appliances were dismantled. Along with family members, they salvaged what they could and moved Daisy and her granddaughter and family into their new home with her daughter Bertha and her husband. This was not the first time her home had been damaged by a hurricane.

The family had been through the same problems with Hurricane Irene in 2017. After the hurricane, Mrs. Miller and her granddaughter and family moved in with her daughter Bertha Smith down the road from her house. The biggest challenge for the family with all of them living in one house, was getting a regular sleeping time for the grandchildren and getting them to sleep on the air mattresses on the floor. Mrs. Smith looks at the process of getting the house back in order as a journey. The journey for them began with the family members ripping out the carpet, appliances, three bedroom sets of furniture, miscellaneous items, and clothes salvaging what they could.

The next step was the removal of all pictures and art from the walls and putting that in storage where it would not be damaged in Havelock Storage with the rest of her things. She lost all three bedroom sets, kitchen base cabinets, and appliances which were placed on the side of the road for pick up. Mrs. Smith then went to Rev. Scott Fitzgerald's church in Bayboro for immediate help on their house. Shortly afterwards, she received a call from Rev. Fitzgerald that the National Guard would be coming to the house to help salvage what they could save from the house. They waited patiently for the Pamlico County Disaster Recover Coalition to set up volunteers thru the fall and early winter.

The home had been stripped by the family members, Arkansas Baptist Men, the Samaritans' Purse and removed all the mold and mildew. They then shock waved the house to kill all mold in the house. The heat was kept on to help prevent mold from forming in the house. All Hands and Hearts came in and began working on the house. They began working on the house in February and in April they had a key ceremony to present the key back to the owners, turning the finished house over to them. Flooring, walls, baseboard all had to be replaced and all this was done by All Hands and Hearts. It was Mrs. Miller's 90th birthday and they had the house and yard decorated with balloons and signs welcoming her back to her home. All Hands and Hearts even presented her with a birthday cake. They are very thankful and will be forever grateful to God and the volunteers for all the hard work they put into her house.

The best thing was Tim Arnold, site manager, would round the volunteers up on Sunday morning and attend church with Mrs. Smith and her family. Mrs. Miller's daughter, Mrs. Bertha Smith, would cook lunch for the workers every Thursday. After All Hands and Heart finished up the construction part of the house, Mrs. Joy Baker with Pamlico County Disaster Recover Coalition rounded up a number of volunteers to paint the house, and install waterproof laminate. Mrs. Smith stated that the family worked exceptionally hard to save the house because their father had built it. He worked at the lumber yard and each week he would take part of his paycheck and purchase lumber for his house until he got enough to begin building it. Room by room he built the house and his family has lived in that house since 1957. So the house has a lot of sentimental value to her brother and sister and they each worked hard to repair the house so their mother could continue living in the house.