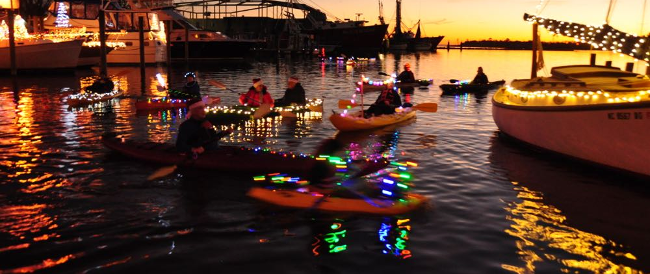 News from the 11/28/2018 issue
Black Friday, Small Business Saturday, Cyber Monday

Small town businesses can compete

Tyndall constructed a sign to signal an underlying principle of his business. Customers entering the front door who glance up to the right may wonder unless they ask. P.O.P.C. indicates that People of Pamlico County can say, "This is our store."

Thanksgiving ushered the Christmas shopping season in with a deluge of marketing spread over all media formats: direct mail, print, broadcast, and the Internet. These massive advertising campaigns usually promote large retail outlets located in areas more urban than Pamlico County. But Shop Local has been an ongoing campaign promoted by the Pamlico County Chamber of Commerce for a number of years. The Pamlico News is examining how shopping with local businesses that are competing on many levels with the big box stores can be advantageous for consumers. Pamlico Home Builders (PHB) in Bayboro, founded in 1966 by Julius Tyndall, was once perceived primarily as a hardware store and lumber yard.

A closer look reveals that over time, PHB has significantly expanded inventory and acquired features found in chain stores and Online retailers.Joining the ACE family of hardware stores in the 1970s provided a base for PHB to expand the scope and size of its inventory. Just as drug stores began to be more than pharmacies, often resembling gift shops or grocery stores, PHB began to offer more than hardware and building materials.In 1981, the business burned. But Tyndall did not shut down. He operated from a storage building with a trailer as the office and built the 15,000 square foot store in use today. Tyndall's children, Keith, Kevin, Rene, Sheila, and Sharon came on board in the business and each one took on a specific role in the growth and expansion. Rene enlisted Vicki Ireland Lewis to help rearrange the floor plan of the store to create a new retail atmosphere. Lewis had been working with her husband, a commercial fisherman. When he began to take on more carpentry work, she became a crab potter working her own boat. Her day started at dawn on the water.

When she had fished her pots, the rest of the day was spent in Bayboro helping Rene create and maintain a growing range of products offered to consumers, not just the supplies to build a home, but products for landscaping around the home, the back yard picnic, seasonal products for the home maker including Christmas trees and decorations, and outdoor products for the hunter and the fisherman. Lewis said, "When I was not crabbing in the winter, I worked more hours with Rene. She worked with me, letting me work when I could. We moved stock around as we thought it was needed and we ordered products we knew would be in demand. After Rene died, I tried to keep up what we were doing. I order inventory on Monday and it arrives Wednesday. I couldn't have done this without Justin's help." Justin is Rene's son who works in the business along with other Tyndall descendants.

When regulations and the cost of operating her crab boat cut significantly into the profit of crab potting, Lewis left the water she loved to devote all of her energy to retail sales at PHB. The store had become a "go to place" for the homemaker, for home maintenance, redecorating, even for expanding one's wardrobe. The affiliation with ACE was a big boost to marketing. ACE marketing decided that Black Friday sales, typically the day after Thanksgiving, assumed to be the day that would put retail businesses in the black for the rest of the year, would begin on November 14, a week before Thanksgiving. ACE has also made it possible for customers to shop at PHB in much the same fashion they would order Online from the Internet giant retailer, Amazon. Customers can go to ACE Online, find a product they want, determine if it is in stock at PHB, and if not, order it Online. If ordered by 3 PM Monday, the product will be available for pick up at the store on Wednesday.

Forty years ago, before the term digital described an age or an era in the affairs of man, the editor of The Pamlico News penned a full page feature story on a man who was a painter. He only did interior work and he would not use a roller. He was a little more expensive than the average house painter, but when his customers engaged him for a job, they knew they were placing their name on a waiting list.

He claimed he was one of the last colorists, a person who could mix paints of different colors to match a color desired by a client. In the digital age, scanners have been available for some time that scan items and produce a formula for producing a matching color.

Linda Lewis, the go-to paint person at PHB, says that she has matched the color of a duck's beak from a decoy for a customer. "I think that was one of the oddest things I color matched." Tongue in cheek, she added, "Before scanning, a man picking a color for a room in the house might have to bring along his wife or have a note from her allowing him to make such a decision. Now the wife can send a a man with anything that is the color she wants and we can match that color if I can get it up against the scanner." While this procedure is not a really new phenomenon, it is an example of how small rural businesses have exerted an effort to provide the services their customers need.

Lewis said. "I have really enjoyed working here, watching a family owned business evolve with the times. Product lines are always changing. The change that recently has had the most impact on my work was adding Valspar paints and stains to our product line."

Justin Radcliff described ways that changing with the times did not mean changes in small town service. "We try really hard to keep up with what customers can find at the big box stores but we add service to that. I can't count the times that someone has needed something to make a repair when we were closed. From the time I was old enough to have keys to the store, we have saved a many a person from having to drive out of the county on a Sunday afternoon to get something they had to have."

He continued, "Not only that, but if somebody buys something that doesn't work, we do what we can to make it right. We try to listen to customers and offer what they need and want, but with service not always found in the big box stores. If somebody is not sure what tool they might need for a job, somebody here will try to help them make the choice that is best for what they are going to use that tool for."

A number of small businesses in The County, sole proprietorships, Mom and Pop operations, and larger entities such as Pamlico Home Builders constitute a high percentage of the cylinders in the economic engine of the county. Through advertising, national chain big box stores located in larger towns and cities imply they can be virtually the sole source for consumers, but comparative shopping can involve more than just comparing advertised prices for any item.

Vicki Lewis at Pamlico Home Builders has observed that as the store's inventory has dramatically expanded in scope and size, more females either accompany men to the store or come on their own to shop for yard tools and products, landscaping accessories, plants, sunglasses, bird feed, clothing, and more.

Digital technology in small towns, scanning a piece of clothing to create a paint of the same color.

---

Commercial fishermen pour cold water on striped bass no-possession proposal.

The North Carolina Marine Fisheries Commission has granted approval to the North Carolina Division of Marine Fisheries to draft regulations that would create a no-possession limit for striped bass in local waterways. The Tar, Pamlico, and Neuse Rivers, along with the area's joint coastal waters,would be impacted by this proposal.

The intent is to protect two year classes of fish while a new plan is being developed. The Marine Fisheries Commission approved this recommendation from the Division of Marine Fisheries at its most recent business meeting held just before Thanksgiving. This supplemental regulation must first be approved by the secretary of the NC Department of Environmental Quality before it is developed.

According to a news release from the Division of Marine Fisheries in Morehead City, NC, "Research has shown that striped bass in these waters are not a self-sustaining population and that fishermen are mainly catching hatchery-raised fish; however, data suggests there now have been two successful spawning years, and those fish need to be protected. Keith Bruno, a local fisherman who also serves as the president of the NC Coastal Heritage Association, observed, "The loss of the striped bass season in the central southern management area will further restrict opportunities for the commercial fishermen. When spring arrives, both fishermen and consumers look forward to what is an already shortened window of opportunity to harvest a local seafood delicacy. This is one of the best fish we catch for baking or stewing, not to mention how good it is fried." He added, "This looks like just another attempt at getting rid of commercial e in this area. If the consumer wants a striped bass, it will have to be purchased as a farm raised product, most likely at a higher price. Most people believe a farm raised fish is not the same in flavor or texture. Shell fish, like clams and oysters, raised in our waters get a good grade from consumers, but that's not the case for fin fish."

Bruno continued, "Another source for the consumer would be out-of-state fish or even the northern part of the state which will remain open." Bruno continued his strong opposition to this possibility, "I guess the hatchery will keep supplying the Roanoke River where the striped bass is a popular recreational catch. But why can't we be afforded the same opportunity as the recreational fishermen in the Roanoke River. Commercial fishermen are made to look bad either way the fish stock goes. If there were no fish then it is thought that we caught and killed them all. If there are a lot of fish, they don't want us to fish for them because we will catch them. This is ludicrous. Not enough fish, we are penalized. Too many fish, we are penalized. Absolutely ludicrous."

Whether a striped bass descended from spawning or from a hatchery can be determined because fish released from the hatchery carry a genetic marker that identifies them as a product of a hatchery. The proposed no-possession regulations would end once the new plan amendment is adopted. That new plan amendment could include the no-possession provision or recommend other management actions.If necessary approvals are received, the division intends to hold one public meeting on the issue in the Little Washington area. The supplement would be brought back to the commission for adoption in February, and the regulations would be implemented by the division director through his proclamation authority.

Keith Bruno, commercial fisherman, is held in high regard for common sense views on commercial fishing regulations and his appreciation for conserving fish stocks.

---

Waterfowl Weekend & The Annual Core Sound Decoy Festival

December 1 & 2 Harkers Island Elementary School & The Core Sound Waterfowl Museum and Heritage Center

---

Decoy carving, exhibitions, contests, a celebration of Core Sound waterfowl heritage, and more

Vivian Howard, PBS's A Chef's Life, to autograph Deep Run Roots

Though battered by Hurricane Florence, Harkers Island residents, the Core Sound Decoy Carvers Guild, Harkers Island Elementary School, and the Core Sound Waterfowl Museum and Heritage Center are on track to welcome thousands of visitors from the entire US East Coast and beyond for the annual Decoy Festival and Waterfowl festivities this weekend, December 1 and 2.

The Core Sound Decoy Carvers Guild's stated mission is to safeguard and preserve Core Sound's decoy carving heritage by offering an honest view of the past, increasing awareness and appreciation of waterfowl, and providing demonstrations and workshops so that the decoy carving heritage will continue into future generations. The Guild encompasses many contributors to the waterfowl heritage of Core Sound, decoy carvers, duck calls, artists, photographers, folklore, and collectors of decoys and waterfowl art.

Events at Harkers Island Elementary School focus on sharing different aspects of Core Sound's waterfowl heritage with future generations including carving contests, exhibitions of fine art decoys, waterfowl paintings, and photographs. Activities introduce young people to decoy carving and painting as well as learning to use hand crafted duck calls.Events at the Core Sound Waterfowl Museum and Heritage Center on the very eastern end of Harkers Island encompass a vast array of activities celebrating Core Sound heritage.

Local residents and principals in local organizations staging Waterfowl Weekend and the Decoy Festival have reflected on the events since September 14 when the northeast quadrant of Hurricane Florence slammed Core Sound environs for 12 hours of hurricane force winds. Lockwood Phillips, Board Chairman for the museum said, "Even with the shock and immediate work to vacate our building that required days of packing and moving artifacts, inventory, equipment, and furnishings (all of which are dry, safe and secure in locations throughout eastern NC), the community's needs remained our first priority. Since October 1, 2018, the Museum has received over $100,000 in donations to provide disaster assistance to Down East. We have partnered with Carteret County Schools to reach hundreds of families from Bettie to Cedar Island adversely affected by Hurricane Florence. We are proud and thankful that our members and friends have stepped up to make that possible."

Karen Amspacher, executive director of the museum, observed, "Florence has left behind a weary land, disrupted families, damaged buildings and ailing businesses, but we are still thankful that our storm was not catastrophic like Michael on the Gulf Coast. We have a mess, not a disaster, and we are working hard to put our lives, homes and communities back together – and we will. This is not our first hurricane, nor will it be our last. It is the price of being where we are and part of what makes us who we are, and we will remain strong, determined and committed to this place and the people around us. We are tired but not defeated by any means."

Vivian Howard, author, chef, restaurant owner, star of the PBS show A Chef's Life, will visit Waterfowl Weekend to sign copies of her cookbook Deep Run Roots: Stories & Recipes from My Corner of the South, Saturday, December 1, Noon - 2 PM. at the Museum. Those who wish to purchase Howard's book, $42.70 each, should reserve a copy at www.coresound.com/waterfowl-weekend-2018. Amspacher, said, "Core Sound is welcoming Vivian Howard to Down East to be part of our most important weekend of the year. We believe she will find this to be a place that appreciates her commitment to local foods and the importance of community food traditions with a deep understanding of how what we cook reflects our place in the world,"

A native of Deep Run, NC, Howard grew up on a hog and tobacco farm. As the host for A Chef's Life, an award-winning documentary television series celebrating eastern North Carolina food traditions, she has won, a daytime Emmy, a Peabody award, and James Beard award for Outstanding Personality/Host. A new series is planned to première in 2019. Her book, Deep Run Roots is as much a storybook as it is a cookbook.