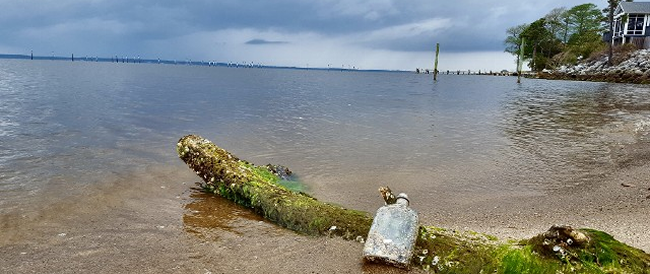 News from the 10/17/2018 issue
Recounting a month of restoring cable service in The County

Jesse Kearney handles the small cable that transmits telephone service, the internet, and television.

Jesse Kearney is a 19 year veteran with Time Warner, now known as Spectrum, the company that offers a bundle of TV, land phone lines, and Internet service. He is a lieutenant in the Harlowe Fire Department, the father of 2 teenage sons, and an active participant in civic affairs of his community.

Jesse Kearney is also a diplomat, a characteristic revealed by how he has been treated by good people when he had to give them bad news.

Jesse is quite familiar with Pamlico County. Though he lives in Craven County, the zip codes of The County place him here regularly. Spectrum has an novel method of dispatching technicians when they receive customer service calls. Kearney is dispatched from a Spectrum center in Mooresville, near Charlotte. When a call is logged in, the zip code is noted and if the geographical area of that zip code falls within reasonable reach of the area that is Kearney's home zip code, he is dispatched.

His diplomatic acumen has been tested and he has passed in the weeks following Hurricane Florence. "I have worked about 20 hours overtime every week since the storm but we are beginning o catch up. If our service is down in an area where power is down, we can't bring our service back up until the power lines are restored. If trees and wind have brought down power lines where our our cables also hang, we have to wait until that issue has been resolved. Where we had our cable underground, we usually had much less trouble. I wish more lines were underground at times like this. We had to replace a lot of cable that was strung on power poles."

He related a few anecdotes of how he has managed to cool tempers, usually with just calm explanation. "I was working one job when a lady approached me a little angry and wanted to know when I was going to get her Internet back up. She had been without power since the storm and she said she at least wanted to use her computer. I explained to her that she had to have power for our service to work, that our system is powered by the power company. I gently asked her how she could use her computer if she had no power. She said, 'Oh, I didn't even realize that.'"

He said, "I really enjoy this job because I enjoy making people happy. When I could restore service and see a smile come over their face, it was such a good feeling to me. They might have issues with the way the company does business, but I try to let customers know we are trying to help them. We certainly don't gain anything by people going without service."

Most people were really nice, even though there were a few remarks here and there. I was working at one location and a lady drove up and asked me when I thought she might have her service restored. I told her we were working as fast we could, that we had even brought in contractors from out of state to help. I told her I could only try to get to her before the day was done. She asked me how much longer I would be in that neighborhood and I told her several more hours."

Kearney then became the target of a random act of kindness. "About 45 minutes later, that lady brought me a lunch. And it was not because I could guarantee I was going to get her back online that afternoon. It was obvious to me that she understood what we were going through."

Working on Sunday, October 14, the month after Florence's infamous visit, "I was in Hobucken this morning. I was walking around the house with the man and we managed to get everything fixed outside. I went in his house to check if their equipment was working right inside. After I did that, I started to leave, but his wife ushered me to the table and made me sit down to coffee, scrambled eggs, bacon, and cinnamon buns."The Pamlico News interrupted Kearney. "Wait a minute, did you say coffee and cinnamon buns?" "Yes." "Did they have a wall round their house for flood protection?" "Yes, they did."

The Pamlico News responded, "Good people are everywhere aren't they." Kearney was handed a copy of last week's Pamlico News that featured Freddie and Ronda Lewis. Running on fumes when visiting their home last week, The Pamlico News received gas for a safe return from the Island. Calls for help also come in on his one day off. Neighbors are aware the Spectrum van in his driveway is a dead giveaway that he is home. Recently, running a chain saw to remove limb debris, he was asked to help a neighbor who had a problem. I cleaned up, got over there about 20 minutes later and fixed it for them"Was he able to log that in on Spectrum time? "Oh no, I just drove my vehicle over there, used my tools, and fixed their problem."

"I'm the kind of person, if someone asks me to help them do something, if I can do it, I'm going to do it. I really enjoy solving problems for people. That goes for my neighborhood. We have drug problems like other places, and I have been trying to get something done about that. I go door to door for Chip Hughes who is running for sheriff in Craven County. I just want something done about this."

The Pamlico News noticed a Bible on the dash of his company truck. When asked about it, he said, "Well, I can't go to church when I'm working, so I carry this Bible with me." He opened it to show its inscription, given to him when he left employment 20 years ago as a detention officer with the Craven County sheriff's office.

The Pamlico News anticipated that a Spectrum technician would have horror stories about the public's reaction to the prolonged amount of time it took for some to have cable service restored. Jesse Kearney simply told stories of working hard and acts of kindness. Keeping on the bright side of things, Kearney reported that their storm recovery work was so near done, the out-of-state contractors had been released.

Jesse Kearney checks work assignments from a Spectrum dispatcher in near Charlotte. He is dispatched to zip code areas in close proximity to his home.

---

Did Washington's boat from Delaware wash up in Pamlico County?

---

Music Festival raises $11,000 for hurricane relief

The Ol' Front Porch Music Festival raised more than $11,000 for hurricane recovery efforts in Pamlico County Oct. 5-7. Donations were received from both individuals and some of the performing bands.

Dottie Osmun, co-founder of the festival and chair of its board of directors, said, "We are gratified by the amazing generosity of so many of our festival goers and performers."

The Pamlico Partnership for Children, partnering with the Pamlico County Disaster Relief Coalition, will administer the disaster relief funds. Osmun thanked volunteers and Town of Oriental staff for clearing debris from sidewalks and streets in the festival area, Members of the Junior ROTC were recognized for assisting with traffic control.

The festival was reduced in scope after the storm. Two groups performed even though some members had lost their homes in the storm. They joined festival volunteers, vendors, and members of nonprofit organizations that worked tirelessly even they also were impacted by the storm. An estimated 2,500 people attended the three-day festival to enjoy music by 25 varied groups and solo performers.

The Ol' Front Porch Music Festival celebrates the musical heritage of North Carolina every October with a weekend of roots music on the front porches of homes and a main stage against a backdrop of teh Neuse River.

The Ol' Front Porch Music Festival, Inc., is a 501(c)(3) nonprofit organization that provides the region's multi-cultural musical talent with support, promotion and performance venues. It's supported by both the Pamlico County and NC Arts Councils and the National Endowment for the Arts.

---

The County mourns loss of valued servant Daisy's partner remembers

Daisy, a bloodhound owned by Pamlico County Deputy Sheriff Jeremy Lee, died, Tuesday, October 9. Lee acquired Daisy when she was just a few weeks old in 2010. A member of the Arapahoe Fire Department since 2003, a lover of animals, he had harbored a desired to work in law enforcement for a number of years.

His interest in bloodhounds was nurtured by his friend, Dan LaMont. "Dan mentored me. I learned a lot from him and took Daisy to Fayetteville where she qualified to be certified in tracking and article searching by the International Police Work Dog Association. After that, I volunteered her services for the Sheriff's Department, Emergency Management , and even for other agencies outside the county, all over Eastern North Carolina, from Atlantic in Down East Carteret County and to Greenville in Pitt county. I like the idea of doing things for people. And I loved to watch Daisy work."

Lee explained what is described as a God-given talent for bloodhounds. "A blood hound and a German shepherd are two different kinds of police dogs. God designed a bloodhound's body to track. You have to train a German shepherd to do thing like sniff out drugs or bite a person who is a threat to another person's life. But a bloodhounds body is designed specifically for tracking. The long ears drag the ground and sir up scents when the bloodhound has its nose to the ground. The big wrinkles above the eyes work just like blinders do on a horse. The hound doesn't get distracted by what's around him; he keeps focused on the scent the nose is picking up."

In 2014, Lee was hired as a deputy. Though he remained Daisy's owner, because she could also work for the department, the county assumed the cost of her maintenance. While some employers have special days for employees to bringing a pet to work, Daisy was not thought of as a pet. As his co-worker, she came to work with Deputy Lee every single day. She sat under his desk, rode with him, took breaks with him, and aside from tracking responsibilities, became a good-will ambassador for the Pamlico county Sheriff's Department. She was with him 24/7. He said, "Think about it. Nobody has a job like this. I took her with me everywhere. Nobody takes a family member or friend they take to work with them every single day. Nobody keeps a family member or friend with them constantly. but Daisy was with me every day, on and off the job."

Lee described his joy watching her work. "She figured out the logistics of tracking a scent on her own. If she were tracking someone who had been traveling in a straight line and that person made a sharp turn, if she missed the turn, she would keep on that straight line, but then would realize she had lost the sent. She would then instinctively stop and start circling until she crossed the new path the subject had taken. You could see that she had found the scent again by her body language and how her nose was on the ground."

Daisy played a key role in the apprehension of the people who robbed First Citizens Bank in Oriental. When an elderly lady with dementia went missing in James City, 45 minutes after Daisy arrived on the scene, she located her in a patch of woods not far from where she disappeared. After tracking a homicide suspect for two days, the sheriff's office received a tip about where the weapon had been tossed. Provided with a human scent suspected to be on the firearm, two days later she conducted an article search in the area searching for items carrying a human scent. In a search perimeter that covered several hundred acres, she found the gun in a swampy part of the woods.

It was not her superior tracking skill that defines her legacy. "I trusted Daisy and she trusted me. That's what made us a good team. She would do anything I asked because she trusted that I would keep her safe, and some things we did were very dangerous. She knew I would always protect her. I could ask her to sit at my desk with her paws beside the computer keyboard. She would stay like that until I told her to move. I once put her in a front end loader and started driving it and she stayed right there."

Most assume dogs or any animal perform for a food treat or a toy. "Daisy worked for a different kind of reward. She would do anything asked of her to receive love and attention. Once she had done what was asked, she would lie down or snuggle up to you to be petted and loved. She thrived on attention from humans, especially from little children."

He said that for training or demonstrations, he never had a shortage of volunteers to be decoys. People, students, Cub Scouts and Boy Scouts looked forward to the loving at the end of the exercise as much as Daisy did.

Deputy Lee struggled to explain his relationship with her. "I don't know how to describe her so people can understand what I'm talking about. She was not just a pet. She was not just a Police K-9. It's just hard to tell you what she was. She was my friend, my partner, and she was just as much a mentor to me as I was to her. Without her, I was just Jeremy Lee, a person dong a job like anybody else. I became "Daisy's owner." She opened doors for me. Because she loved humans so much and was loved by them so much, her reputation spread throughout this area. I got to meet some fabulous, wonderful people all over this area because we were called out together to work or make appearances at schools, festivals, parades and other events. She was always a big hit a Mumfest."

Deputy Lee had been sleeping during the day and awoke to begin his night shift when he discovered that she had died. He called Sheriff Chris Davis to tell him he would be late for work because he had found Daisy deceased. "It was no time before Sheriff Davis drove up a tmy house followed by his command staff. Then, the Emergency Management Director, Chris Murray arrived. Next thing I knew, the people at Lynaire Kennels in New Bern went back to work after hours to receive her so I could leave her there that night. the sheriff, his command staff, and Chris Murray went along with me to the kennel that night. The cremation was done the next day."

He also related how the public had responded. "People I don't know would come up to me in stores or anywhere in public and tell me how sorry they were. I want to thank all these people, the staff at the department, and also Dr. Sherri Hicks who never missed a moment to give Daisy the very best care possible. Dr. Hicks would always go above and beyond to help me help Daisy."

Deputy Lee finished his interview with the Pamlico News by re-emphasizing, "I wouldn't be who I am today if it were not for Daisy."

Daisy was no only patient with children who wanted to pet her, she thrived on their attention. She never hesitated to follow her partners orders, even if it meant office work.