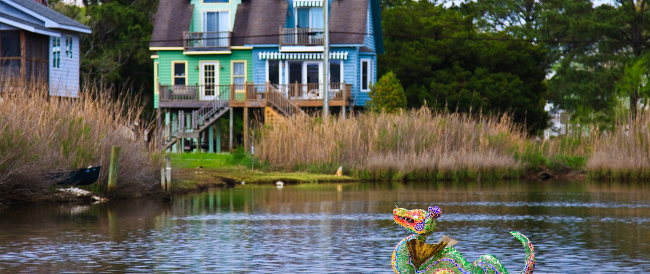 News from the 6/12/2019 issue
STATUS OF THE PAMLICO NEWS
Over the past week, and since the publishing of our article detailing the state of The Pamlico News, we have received a number of calls, emails, and have even been approached in local stores by incredible members of the community showing love and support for our small county paper. We wanted to thank all of you that let us and our advertisers know that the county paper matters to you and that you want it to remain a staple in the community.

We have also received a number of concerning calls, as well as calls from concerned people in the community. We want you to know that it is our wish to remain a part of the community and we are not planning on closing our doors anytime soon. While we are trying to determine the best direction to take the paper with regard to print, we do not expect to discontinue printing the paper. If for some reason we did decide to go completely digital we would give our advertisers and the community notice prior to any change.

Our hope is to maintain the print paper and grow our digital platform offering readers a variety of news reading options. With your continued support we can achieve this goal. We ask that you continue to support the paper by subscribing and letting our advertisers know you see their ads as we update and grow our paper and online news platform.

Thank you again to every one of our subscribers, as well as those of you that subscribed for the first time, renewed your subscription, donated, and spoke to our advertisers. We sincerely appreciate each and every one of you.

---

BURN BAN LIFTED


Thanks to recent rainfall, conditions are improving causing the N.C.Forest Service to lift the burn ban for 18 counties. The ban, which went into effect on May 30 due to the extremely dry conditions, was lifted at 5 p.m. on Monday, June 10, 2019.

The burn ban included the following counties: Beaufort, Bladen, Brunswick, Carteret, Columbus, Craven, Dare, Duplin, Hyde, Jones, Lenoir, New Hanover, Onslow, Pamlico, Pender, Pitt, Tyrrell and Washington. These counties are now issuing burn permits but caution individuals against an open burning as open debris fires are the leading cause of wildfires in North Carolina.

The ban was intended to curb human caused wildfires to allow responders to handle other wildfires, such as those caused by lightning. WIth the ban in effect N.C. Forest Service responded to 53 wildfires.

Permits that were issued within these 18 counties prior to the ban have been cancelled and must be reapplied for either in-person or online at: www.ncforestservice.gov. The online burn permit is available statewide.

Resident questions should be directed to the county ranger with the N.C. Forest Service or the county Fire Marshal's office.

---

HOPE REGALA FILLS HARBOR WITH FUN

The annual Hope Regala Fundraiser kicked off Friday at the River Dunes with live music and great food to the delight of attendees. The featured award winning barbecue was supplied by Dennis Brinson while bluegrass music of the Harbor Sounds filled the air. The fun was followed on Saturday by the long anticipated Gala.The Gala included a cocktail bar for guests to socialize followed by a delicious dinner and dancing to the Chuck Eatmond Band. The evening also hosted a live auction and closed with the drawing of the $10,000 Golden Raffle Winner.

The Hope Regala is the Hope Clinic's largest fundraiser of the year and benefits the non-profit which provides free medical treatment and medication to uninsured and low income adults with addictions. They provide comprehensive addiction treatment to adults in eastern North Carolina and the success of the Gala helps ensure that they are able to continue to do so.

While no racing actually took place like at a traditional "regatta" the regala did not disappoint. From the mouth-watering barbecue to the blissful music, all in attendance seemed delighted by the event as the Hope Regala filled the harbor with fun!

---

DROWNING DOESN'T LOOK LIKE DROWNING

Do you know what a drowning person looks like? Could you spot one in a sea of people? Chances are, if you are like most people, you would not be able to spot a drowning person at first sight. This is because most of us have a misconception of what drowning looks like due to the influence of popular culture. To make drowning look more dramatic on television and in film people are often shown flailing, screaming, and violently active. However, that is contrary to what drowning actually looks like. Knowing how to tell the difference just might save a life.


In a recent article in the Coast Guard's On Scene magazine, former Coast Guard Dr. Francesco A. Pia explains that drowning is often quite the opposite as shown on television, "Drowning is almost always a deceptively quiet event. The waving, splashing and yelling that dramatic conditioning (television) prepares us to look for is rarely seen in real life." The article explains, The Instinctive Drowning Response, so named by Francesco A. Pia, PhD, is what people do to avoid actual or perceived suffocation in the water. And it does not look like most people expect. There is very little splashing, no waving, and no yelling or calls for help of any kind.


You may think that you personally could tell the difference between a drowning person and someone just playing around, but drowning is currently the number two cause of death for children in the United States and more than ten percent of those children's parents watched them drown unknowingly. The statistics are grim according to the CDC in The Sydney Morning Herald's coverage of Dr. Pia's article, "Of the approximately 750 children who will drown next year, about 375 of them will do so within 25 yards of a parent or other adult." These numbers are staggering and make knowing the difference imperative.


Dr. Pia explains what The Instinctive Drowning Response is and how to tell if someone is likely drowning:

Except in rare circumstances, drowning people are physiologically unable to call out for help. The respiratory system was designed for breathing. Speech is the secondary or overlaid function. Breathing must be fulfilled before speech occurs.

Drowning people's mouths alternately sink below and reappear above the surface of the water. The mouths of drowning people are not above the surface of the water long enough for them to exhale, inhale, and call out for help. When the drowning people's mouths are above the surface, they exhale and inhale quickly as their mouths start to sink below the surface of the water.

Drowning people cannot wave for help. Nature instinctively forces them to extend their arms laterally and press down on the water's surface. Pressing down on the surface of the water permits drowning people to leverage their bodies so they can lift their mouths out of the water to breathe.
Throughout the Instinctive Drowning Response, drowning people cannot voluntarily control their arm movements. Physiologically, drowning people who are struggling on the surface of the water cannot stop drowning and perform voluntary movements such as waving for help, moving toward a rescuer, or reaching out for a piece of rescue equipment.

From beginning to end of the Instinctive Drowning Response, people's bodies remain upright in the water, with no evidence of a supporting kick. Unless rescued by a trained lifeguard, these drowning people can only struggle on the surface of the water from 20 to 60 seconds before submersion occurs.

They went on to warn not to disregard anyone seemingly in distress in the water, such as someone yelling and thrashing, explaining that those people are experiencing aquatic distress which may not always be present before Instinctive Drowning Response and does not last very long. In this state, just before Instinctive Drowning Response, these individuals can still assist in their own rescue, such as grabbing a throw ring.

The key signs to look for according to the article are:

1. Head low in the water, mouth at water level

2. Head tilted back with mouth open

3. Eyes glassy and empty, unable to focus

4. Eyes closed

5. Hair over forehead or eyes

6. Not using legs – vertical

7. Hyperventilating or gasping

8. Trying to swim in a particular direction but not making headway

9. Trying to roll over on the back

10. Appear to be climbing an invisible ladder

Recognizing how to spot these warning signs is crucial within the first few seconds since most drowning can occur within seconds. The best thing you can do if you are not sure if someone is in distress is to call out to them and ask if they are alright states The Herald. They also stress to parents that children are always noisy and to be concerned when you don't hear your child. They explain that parents should never take a chance, when in doubt check on the child immediately since they may have only seconds.