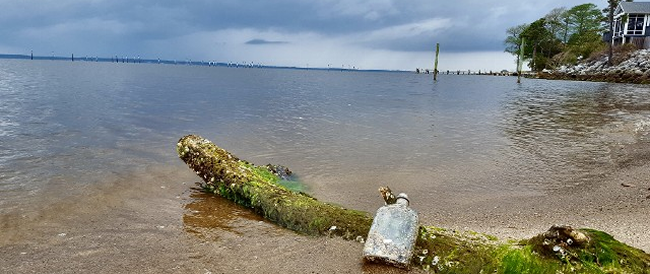 News from the 11/14/2018 issue
Ann Holton reflects on her 16 years as a Pamlico County commissioner

As I reflect over the past 16 years, I am humbled by the confidence that the citizens of Pamlico County have entrusted in me to serve on their governing board. It has been a pleasure and a rewarding experience to have served on a board that put politics aside and worked in a non-partisan manner to address some of the needs of the County. Since 2002, the Board has weathered three major hurricanes (Isabel, Irene and Florence), built a new law enforcement center, a human services building, high school cafeteria, as well as an addition to the Board of Education office, a new roof on Pamlico Community College's Johnson Building, and improvements to the courthouse.

Funding for the Board of Education has increased, which has provided resources for a significant increase in teacher supplements. Most importantly, this has been done without raising the tax rate and increasing the county fund balance from 18.7 percent in 2002 to a high of 44 percent in 2017. During this period, major infrastructure improvements have been made in the County water system, also. Other factors, including two property re-evaluations, have contributed to these accomplishments. In addition, it has been such a pleasure working with our county administrative staff, led by the County manager, Tim Buck. They work tirelessly to research issues and to provide information to the Board to help in the decision making process.

It was with mixed emotions that I did not seek re-election. I will miss serving on the Board. It has been a gratifying experience; however, I look forward to having more personal time with my family, who has supported me throughout these past 16 years. And, an extra special "thank you" to my husband Charles. He has stood beside me all the way.

Ann Holton

I have always admired Commissioner Ann Holton's dedication to public service and Pamlico County. She has been an outstanding leader, colleague, and friend.

Ed Riggs, Chair, Pamlico County Board of Commissioners

Ann Holton will be impossible to replace. There is no way anyone can work at the job harder than she has. She's always prepared, and the depth of her knowledge about county government is unparalleled.

Paul Delamar, III Commissioner

The Pamlico News reached out to the successful and the unsuccessful office seekers for seats on the Pamlico County Board of Commissioners for their reflections on the recent election.

Chairman Ed Riggs offered an overview of the board's past and potential future.

We look forward to working with Commissioner-elect Doug Brinson in this next term. His experience and knowledge will be beneficial as we make important decisions this coming year. Looking ahead, the cleanup and destruction from Hurricane Florence will be with us for a while. Construction will begin on a new, taller, elevated water tower in Reelsboro which will greatly improve water pressure issues on the western end of the county. Rehabilitation of two water plants and studies on how to improve the water quality are scheduled. Important legal decisions concerning past water fees will need to be made.

Concerns with past environmental health permitting and improvements going forward will continue to be addressed. Providing the necessary resources for our Sheriff, schools, and other departments in order to provide the best possible service for our citizens within budget constraints will always be a struggle.It is a great honor to have served as Chairman this past year and being reelected by the citizens of Township 3. While we may not all agree on specific issues, I do expect the Board to continue to work together to find solutions to problems and to provide direction for a compassionate and conservative form of local government.

Comments of Paul Delamar, who retained his seat on the board, follow.

As a board, I'm hopeful that we can continue to improve county government. We should always look for ways to be more efficient and to provide services to the public with a minimum of delay and hassle. A big part of what the public expects is the careful management of their money. Finally, we should regulate as little as we must. People expect honest, frugal government, and that is what we should strive to deliver. Doug Brinson also has a lot of experience both in private business and in county government. If anyone could step into Ann Holton's role and hit the ground running, it's Doug.

For the most part our board has been pleased with the response to Florence. We learned a lot from Irene seven years ago, and I think we'll gain a lot of knowledge from this storm that should make us even better in the future. There are some things we know we need to work on, but in particular our emergency management, fire departments, EMS and sheriff's department were incredibly effective. Also, even without a lot of outside assistance, our staff did a great job managing the shelter, which can be a difficult job even under ideal circumstances.

Newly elected Commissioner Doug Brinson, who has previous experience on the board, commented as follows

I am grateful and humbled to have the opportunity to serve as a county commissioner here in Pamlico County once again. My enthusiasm and concern for the future growth and quality of life here in Pamlico County has not diminished.

Having been asked to address my priorities in this role, I point to our recovery from Hurricane Florence among our most pressing concerns. We are proud and appreciative of the response of our law enforcement, first responders, fire departments, county government employees, and the many volunteers in the time of crisis. Just today I was told that a number of FEMA trailers are coming to us, due to the persistence and hard work of many local officials. Loss of population in Pamlico County was occurring prior to the storm. To stem further decline, clean up and fix up must continue to be priorities.

Closing of businesses even before the storm was a sign of the need for economic stimulus. Many jobs are plentiful now in our recovery, but there remains the need for more permanent, local employment. People moving to Pamlico County are not just retiring, but many still seek working, many from their homes.

Small businesses have always been part of the backbone of our economy. Our connectivity and communications need continued improvement. Pamlico County is a great place to live. Our schools offer young families and children a place to be safe and well educated for their futures. County government has and must continue to offer our schools support in meeting the needs and challenges in today's educational settings.

County government is not the answer to all problems, but is surely a tool to be used in addressing our needs. I am a fiscal conservative with our tax dollars and well aware of the need to stay within a budget. The Pamlico County fund balance is really a Pamlico County savings account, which is being used right now for hurricane expenses.

As one of seven commissioners charged to govern, I will have the responsibility to move forward in growth and the quality of life for the young, the older, and those in between. Being positive and not negative and being a promoter of Pamlico County is my nature. Sally Belangia and Rick Happ failed in attempts to win seats on the board. Belangia expressed concern that in this local government election, people perhaps voted more for party than for individuals.

---

Bright sunshine, brisk breezes and cool fall temperatures set the backdrop for Pamlico County's annual Veteran's Day Parade in Bayboro, Saturday, November 10. Following tradition, the colors led the parade presented by a local veteran Color Guard. Marine General Tom Bratten, who served as the commanding officer of MCAS Cherry Point prior to his retirement, helped State Senator Norman Sanderson carry the banner honoring veterans as heroes just behind the colors. They were followed by the NROTC unit from Pamlico County High School.

---

Sunday fire destroys home near Grantsboro

Firemen were dispatched at 12:12 pm, Sunday, November 11 to a structure fire on New Ditch Road near Grantsboro and Alliance. Chris Murray, Director of Emergency Services, said, "Upon arrival of initial fire personnel, it was determined the fire had spread to an additional structure and vehicle. All 3 were completely engulfed by fire. Grantsboro-Silverhill, Triangle, Olympia, and Arapahoe Fire Departments brought the blaze under control in 30 minutes. Pamlico EMS transported the occupant to Carolina East Medical Center for symptoms of smoke inhalation. The cause is under investigation by the Pamlico County Fire Marshals Office assisted by the Pamlico County Sheriffs Office.

---

Oriental Has A New Parade Master!!

Captain Lance Burgo has taken over the duty from Paul Fairbank for the Spirit of Christmas Parade December 8th and Croaker Festival Parade. Captain Lance comes to us by way of Martha's Vinyard and St. Johns and is part of our Coast Guard Auxiliary in New Bern. Captain Lance will need some "Parade Wranglers" to help with the lineup. Please call to volunteer. As always, entries may be made at Village Hardware, or by calling the store at 249-1211, or by calling Captain Lance at 249-1490, or by mail to Parademaster, PO Box 4, Oriental, NC 28571. The Parade theme will be announced soon!

---

Raising funds for Oriental's History Museum

An afternoon of classical jazz, a silent auction, and a sampling of the fruit of numerous vines

Althesina Krutulewski provided the musical entertainment for the Oriental History Museum's fundraiser Saturday, November 10. Her career in music began when she joined her high school's marching band which transitioned into a 13-year span of ceremonial band ensembles in the United States Marine Corps Fleet Bands with tours of duty in Quantico, VA, Okinawa, Japan, and MCAS Cherry Point. Known as Ms. Al, her repertoire covers a wide range of genres, baroque, classical, jazz, and contemporary. She performs in local concert bands, combos and community theatre pit orchestras. Telling stories with music, she has developed a recital series known as Sacred Trumpet Hymn Project, which involves solo and ensemble performances for all musicians. She also plays with Jazzy 4, a local jazz group.

---

Is post hurricane NC seafood safe to eat?

Yes it is, according to the NC Dept of Environmental Quality

Arapahoe native, Wade Harper, Jr., a retired phosphate miner, is now a fishmonger for the Garland Fulcher Seafood Company. Holding a few local shrimp, he said, "No reason in the world not to eat our seafood. I take some home every night after work."

The Pamlico News was advised that comments on social media, particularly Facebook, had questioned the viability of North Carolina's commercial seafood harvest in the aftermath of Hurricane Florence. This newspaper does not rely on any social media platform to obtain reliable news. The Pamlico News contacted the NC Department of Environmental Quality with a specific list of questions about the status of seafood stocks post Hurricane Florence. The department responded with the research data available at this time.

Has the hurricane runoff negatively impacted the waters to the extent that advisories have been issued not to eat certain species from certain bodies of water? Currently, the state does not have any fish consumption advisories related specifically to impacts from flood waters. Typically, contaminants accumulate in fish tissue over time. Therefore, we would not expect an acute event, like hurricane flooding, to result in significant increases of contaminants in fish tissues that are consumed. Caught fish should always be properly filleted, cleaned and cooked. For any areas impacted by flood waters, the Department of Health and Human Services' standing fish consumption advisories are still applicable.

For more information, the DHHS Occupational and Environmental Epidemiology Branch webpage on fish consumption advisories has information on how fish consumption advisories are developed and what fish are safe to eat. This information is at: https://epi.publichealth.nc.gov/oee/programs/fish.html.

Many shellfish growing areas had lower levels of hurricane related impacts such as rainfall, flood-ing and sewer discharges and were able to open quickly after Hurricane Florence. Satisfactory bacteriological sampling results were obtained in all growing areas prior to reopening. All growing areas reopened as of October 27. However, temporary closures due to heavy rainfall events are common and are implemented as needed.

The Department of Environmental Quality's Marine Fisheries Division issues proclamations on shellfish in polluted areas. You can stay up-to-date on shellfish closures at DMF's Shellfish Polluted Areas Proclamations Page:

http://portal.ncdenr.org/web/mf/proclamations-polluted-areas.

Has the storm aftermath created any moratoriums or rule changes in terms of the commercial fishing harvest? No. Has Hurricane Florence adversely impacted this fall's commercial fishing harvest, and if so, which species?

It is too early to tell. Documentation regarding commercial harvest usually has about a two-month lag time before the data is entered and triple checked through our License and Statistics Section. However, because of damage to and closure of dealer facilities, this may take even more time.The Pamlico News thanks the NC Department of Environmental Quality's Sarah Young for providing this information. Whenever rumors are circulated, the newspaper will make a concerted effort to verify any published news.