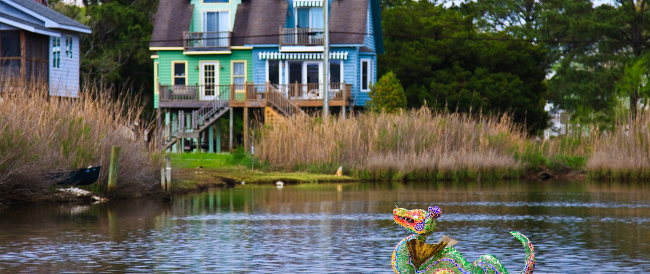 This Week's News For 8/21/2019

The Aftermath of Hurricane Florence

It has been eleven months now since Hurricane Florence raised her ugly head here in eastern North Carolina. Pamlico County was among the worst hit counties with many people being evacuated from their homes due to wind, rain, or flooding. While recovery is accepted to take time, people are still in the process of repairing their homes while others are still unable to move back home. Almost a year later, 320 people (Families) have not been helped with disaster assistance for one reason or another. One of the reasons is that the Pamlico County Disaster Recover Coalition which oversees the recovery effort in Pamlico County has only two case workers to process the applications of those people in need of help. Mrs. Joy Baker, director of the Pamlico County Disaster Recover Coalition said, "We could have all the money in the world, but you have to have the case work to vet the individuals and make sure that it was storm related and make sure it was their primary home and make sure they were living there at the time of the flood occurred."

She went on to say that the case workers had to find out "what did they get from FEMA. Find that out and if they had insurance, we need to know what they got and they have to show us the letter they got from the insurance company and if they spent any of it what they spent it on to account for that money. Based on their income, social security, whatnot, generally that takes all your social security just to live on, you don't have any extra to fix your home. So we kind of vet them in that respect to know ok now we are going to kick in and see what we can do to help them." She went on to say that the heavy majority of the 320 people waiting for assistance indicated that they needed help to repair roof damage. Roof damage "can be anywhere from a couple of shingles to the whole entire roof needs to be got. So as a case worker we will send our construction analysist out and we got one from the state his name is, we call him Mack, Mack Dillihunt, and he goes out to the houses he makes appointments and goes out to the houses and makes sure that the damage is storm related. And he reports back to us. So when we see that yes, the majority of the damage is storm related, cause you are going to find a lot that is pre-existing in the county, we've got a lot of homes in bad shape, and the storm has made them unlivable.

And if we are able to help them we do what we can so we are replacing a floor in one double wide mobile home right now that's probably a 70s mobile home model but she had a great big big branch Oak tree to fall on her roof and wind driven rain got in there and so it got into her kitchen and it came through the ceiling and ran down the lamps or something and pooled this one part of her kitchen floor and she was evacuating for three weeks. So when she came back the hole was big. Now based on the what the kitchen floor looked like, she may have had a soft area to start with, but that made a big actual hole. And so in order to fix that and to make it safe in there, there was nothing that was good enough to attach plywood to so we are replacing the whole floor.

This is not the case in everybody's home. We cut out the bad section and replace it if we can. And the majority of what we are doing is trying to concentrate on roofs." Baker went on to add, "We've got a lot of homes in bad shape, and the storm has made them unlivable." Tonya Mattocks is a good example of a family in need of help. "her house was flooded and they got money from the insurance company and they were going to elevate it and Skip Lee told them that it is a block house and it was one a cement slab, he said, "You elevate this house and these blocks will fall to pieces." Just was not an option. They were flooded twice I think. There was nothing we could do and their house had mold everywhere and when these people evacuate their house for that period of time and the heat we had last year, she was staying with someone up in Reelsboro and so she had a place where she was staying. So we had her in an unmet needs file because we didn't know what to do with her and with Samaritan Purse called me up, I said, "Oh God thank you so much." So she was number one that we referred to them, so she was the first one that they accepted.

So they are rebuilding their house. They tore the other one down and are rebuilding them a house, a two bedroom house."Another guy's house had his roof blown off in the hurricane and the disaster relief went out to help him. " we have done some peoples' roofs and got one double wide that we put a metal roof back on a house and they had paid somebody last year to put a metal roof on. This guy who is deceased now, was one of those fly by night people, put the roof on over rotten plywood. And so when Florence went through the whole back left side of his roof, peeled it completely off, he went up there and tried to put a tarp on it and almost fell through the roof. He had no idea it was rotten. We put 54 sheets of plywood on that roof along with a new metal roof. So with his house, he had the wind driven rain that got in multiple places and so he's got big areas in his ceiling where he's tacked black plastic all up it looks like little balloons hanging down all in multiple rooms about nine rooms that were damaged in the double wide between the kitchen, hall way, and the bed rooms and whatnot, he has tried to do as much as he could, couldn't do the roof.

Two of his bedrooms, that were right there on the end where the roof came off, rain had poured in there. His floor furniture and everything had fallen through the floor. That is way beyond our scope to come in here and help you do anything inside. WE can get his roof but that is all we can do. So, again we are referring."One house that this reporter went in and observed in progress was Mr. James Gibb's home in Reelsboro. The house was flooded in Irene first and while he applied for every type of assistance available, he was turned down each time. Mr. Gibbs when to FEMA "and they came and looked at it and they could see the water line there where the water rose and the water had blown under the house, yet they still denied it." When Florence came, it did the same thing, flooding the lower room and coming completely in the under part of the house. " it leaked in and I had to take stuff out to get the water out and still water was under the house and from time to time, the floors were getting weaker and weaker. . .and the floor had just fell in on the ground. From that moment on things just started getting weaker and weaker from one joist to the other." Mr. Gibbs "filled out applications for disaster and some more friends came with applications cases and through all the connections and God had His path, and I call it His straight and narrow path to walk on, through that I realize that in time my prayers will be answered." Samaritan Purse has come in to work on Mr. Gibbs house, working to put it back so he can live in it. "Samaritans Purse is a ministry out of Boone, North Carolina and Wilksboro, North Carolina and our main focus is to share the Gospel of Jesus Christ and be where His hands and feet need to be."

Glenn Davis, foreman for the Samaritans Purse working on Mr. Gibbs house, said, "We are here, we've got a rebuild project going on right now from the storm Florence and we have three different crews here in your county, Pamlico County, and in New Bern, and we are doing several different projects. Many of them are brand new projects, new homes, from scratch from the ground up, and we are also doing rebuild projects where we are repairing damaged homes from the storm and also putting in mobile homes where houses cannot be built. We are using multiple different avenues to get people back into their homes that have no hope."

The lumber and other materials have been provided by donors who donate money to support Samaritan Purse that are supporting the Lord. This support comes from many churches which are affiliated with them, but their main office is located in Boone, North Carolina and in Wilksboro, North Carolina. Davis said they had been working on Mr. Gibbs' house for about five and a half weeks and expected it to take another five or six weeks. When describing Mr. Gibbs' house upon entering it, Davis said, "When we entered this house, Mr. Gibbs' house, of course it was damaged by the water, it had come up into the flooring system of his house and it caused major decay and also he has had previous damage from previous storms that we have had to address and repair and we have basically started over, we started from the foundation up." Mr. Gibbs is not the only one who has not gotten financial help from FEMA. When asked about the amount of help FEMA has provided in Pamlico County, Mrs. Baker responded, " NONE! FEMA hasn't done anything to help us. Not a bit." She went on to explain that she still had a lot of people to help with very little money left to do so. She has applied for a VOAD grant through the state, but so far hasn't heard a thing from them. They have received one grant which they have almost used up. " the main one that we have received is the Gold Leaf Foundation Grant and that was something we had to apply for and that was all disaster counties in the state of North Carolina could apply for this money.

It is money that is donated to the state of North Carolina for hurricane relief it was given charge by Roy Cooper to the Gold Leaf Foundation for them to administer it so each individual county had to apply, so that is where that came from. Supposedly there is supposed to be more money there that you could reapply for—where is it? We don't know. We haven't heard anything since the budget got vetoed." She went on to add, " Where's the money? I don't know. We've put some phone calls in to some congressmen to see if we can get some answers."I asked Mrs. Baker about the STEP program to see how much money Pamlico County received from that program. STEP "funded repairs for roughly 2,300 homes after Florence but wasn't available after Matthew." She replied to that, "Well the STEP Program we did not get in our county because they said that we did not qualify for it because we didn't have enough people damaged and they were going by FEMA's statistics. So we had a lot of people who went up to sign up for FEMA help, and because they were helped before in prior hurricanes and had not maintained their flood insurance because they couldn't afford it, they were shown the door. So their statistics weren't even entered in the computer. This is our problem.This is why we didn't qualify for housing, for the FEMA trailers, whatever."In an article in the Courier Post on Line for Friday, July 26, 2019, "North Carolina Housing and Urban Development awarded North Carolina a community block grant of $237 million for Matthew but as of July 2019, the state had only spent 6% of those funds."

Where are the other 94% of the funds and why haven't they been disbursed? And that was for Hurricane Matthew. If they are that far behind on Hurricane Matthew, where is the money allocated for Hurricane Florence? "So for the first 311 days, the state had literally no ability to pull on those funds." When asked about Federal money for Hurricane Florence relief, "HUD spokesman Brian Sullian declined to comment beyond referring a reporter to online materials that characterize North Carolina as a 'slow spender' of its Matthew-related grant." With it taking so long for Matthew, "it's unclear how long this process will take for Florence, which flooded an estimated 74,500 homes. HUD announced in May it will award North Carolina $336.5 million in community block grants for the storm, but spending rules must be settled first."In the same article, "After Florence, FEMA approved giving an average of $3,785 to 34,665 home-owners and renters through its Individuals and Households Programs. FEMA stresses this program is intended to cover basic needs but not compensate for all losses or replace insurance."

Pamlico County is in desperate need of more money to help those 320 families who are still in need of assistance. The Pamlico County Disaster Recover Coalition is in dire need of volunteers to help with case work. If you can volunteer even one day a week, let them know and they will train you to go into your own community and take down the case work to allow your neighbors to get the help they so desperately need. As Mrs. Baker said, "We are not asking for 5 days a week, not even three days a week. If you can give me one day a week, just one day a week and come in and let us train you to do some case work,, go back to your community and work, pull up on our data base a list of names from your area and give them to you to work with and just reach out to your fellow man if its only for half a day, a day, one day a week, it makes a difference. One person at a time. One indi-vidual family at a time."

In addition, churches and other groups need to come together and do some fundraising to raise money to help Pamlico County Disaster Recover Coalition provide the services they so desperately need to do. There are so many people out in the county who need help to get their roofs replaced or repaired and the Disaster Recover Coalition cannot do it with the little bit of money they have left.If you want to donate money or time, or if you need to apply for help with the Pamlico County Disaster Recover Coalition, their office is located at 210 Vandemere Road in Bayboro, in the Bay River Commons. Their office phone is 252.745.0883.

To be continued. . . .

---

House Bill Targets Rec Fisherman

From Capt. George Beckwith Jr.

Those of you who know me have heard by occasional rants. This newsletter is no exception, but unique in that Anna has decided to chime in on North Carolina's southern flounder issues. I want to make it clear that our opinions are just that, our own. My crazy should not reflect on her, just as her good sense does not always rub off on me. Giving full disclosure, Anna Beckwith served on the NC Marine Fisheries Commission from 2009 to 2015 and has been serving on the South Atlantic Fishery Commission since 2012. She is currently in her third term where she strives to maximize access and health of the resource outside of state waters. In addition, I've got something to say about striped bass and the unfair moratorium on the Neuse River of North Carolina.

A similar management strategy continues to keep striped bass harvest closed on the Cape Fear River since 2008! Anna and I will also explain concerns on NC House Bill 483. This bill could end fishing with many of your favorite live or cut bait; putting minimum size limits on mullet, croakers, spots and bluefish while making flounder size limits so large that few people would ever be able to keep one from inside waters. Let Em Spawn Bill NC House Bill 483: An Act to Require a Minimum Size Limit For Certain Species of Marine Fish to Ensure That Seventy-Five Percent of the Juvenille Fish of the Species Will Have an Opportunity to Reach Maturity and Spawn at Least Once.

Anna's Take: The intent of this bill is to set a min-imum size limit for many fish species to "L75". This is the length at which 75% of a particular species reaches sexual maturity. As written this bill would force minimum size lim-its on many species to be so high that very few fish would be retained by recreational anglers. This bill also does not include an exception for commonly used bait fish and it will unnecessarily complicate fishery management for species that are jointly managed by NC and other federals entities.

Minimum size limits should be set on a species by species basis based on the biology of each. Setting a minimum size limit too high can cause unintended consequences including significant negative resource impact such as increased catch and release discards. Appropriately set size limits should allow some reasonable amount of fish to be retained by anglers while meeting management goals for that particular fish species. Also minimum size limits on many of our common bait fish would be devastating to recreational and commercial fisheries and create significant unintended consequences in fisheries management.Species such as Bluefish, Atlantic croaker and Spots are federally or jointly managed and go through a rigorous stock assessment process and fall under requirements of Magnuson Steven Act (blue fish) and the Atlantic Coastal Fisheries Cooperative Management Act (Atlantic croaker and Spots).

Adding additional state requirement will unnecessarily complicate management. There is a need for fisheries reform and having an educated and engaged legislature is beneficial to all of us in the long run. I encourage folks to voice their respectful and thoughtful concerns individually to the bill sponsors'. An individual message based in fact carries an incredible amount of weight while online petitions provide little impact. Further information on the bill including the sponsors and their contact information is provided online.

George's View: Dubbed the Let Em Spawn Bill, HB 483, on the surface sounds like a good bill, let 75% of fish spawn before harvested. It may work for some fisheries, but the life cycles, fecundity and availability to anglers through the lifestyle of other species would prevent fishermen from ever being able to harvest them or utilize them as bait. If the bill moves forward you will not be able to use bait that is under legal size, so no little spots, croakers or bluefish can be used.

No more finger mullet despite NCDMF noting that the most recent stock assessment for stripped mullet, completed in 2018, indicates that over fishing is not occurring on this stock.Also, using cut bait from fish that have a size limit is prohibited in North Carolina so even if your mullet is big enough to keep, you can't cut off its head and put it on a hook. In short this is a BAD BILL for recreational anglers.

---

Fred A. Anderson Adds New Program to Curriculum

Fred A. Anderson Elementary School is adding a new STEMs program to its curriculum this school year to increase critical thinking among the students and staff. STEM stands for Science, Technology Engineering and Math. Mrs. Sheri Hale, long time teacher at Fred Anderson, has been picked to teach the STEM program. Ms. Bennett, Anderson's principal said, "I think that having at STEM program that's focused on corporation and collaboration communication and that is incorporating that science technology engineering and math is exciting. That's going to enhance what we are doing throughout the school and in every content area."

The students will go to Mrs. Hale's STEM classes at least twice a week and sometimes three times a week. Classes will be conducted in a group like setting. Mrs. Hale said, "When I have taught either just science or just science or math or even everything, I like to teach in a manner where I have the kids moving around the room all the time in stations. I try to group the kids sometimes according to what I know that they can do after I get to know them. So I can have a good leader, I can have a good recorder, and I can have a good time keeper, they may not know that and some may figure it out but I like to have a lot of movement in the room. Then it enables me to sit down with a group and teach core instruction while the other groups are practicing either technology, or their writing portion of whatever they need to be doing for the day.

Whatever the other things are that I need to be getting across to them at that point but I'm working with a small group so there is more one on one that way."Mrs. Hale is well known in the school system for making learning fun and for having students who want to be in her classes. "I try to make it where kids want to get up in the morning and they want to come to school, not, "OH my God, I've got to go to school today." I want it to be a fun place for them to come even on those bad days. A lot of them have so many struggles before they even walk in to the classroom. I want to be part of that joy of their day. So yes, I get really passionate."

Ms. Bennett said of Mrs. Hale, "I think it will be very natural for you for you very naturally teach an individualized instruction for all your kids. And you insure that all of your kids are engaged and I think the greatest thing about having the opportunity of having a STEM class is that we have a teacher whose philosophy is aligned to what STEM truly is. And it takes that. She is truly passionate about it. So you know that when kids are coming into her classroom that they are going to get one of the best, the access to one of the best teachers we have in our school that understands that." Hale talked about the curriculum and how she is going to teach the class. She said, "Even though I'm going to be teaching the STEM portion, I'm still going to be teaching the reading, still going to be doing the math, still going to be doing the writing; but I really want the creativity to come out . We've got green screens, we've got trying to work on building to make her space trying to work on Lego. I've got how the donors choose they were funded in three days. I don't know if I've ever had one ever funded that fast before. For flexible seating so the kids can move around. I don't want it to be where you just came in a classroom and the kids are sitting and working on worksheets. That's not who I am. . . . . . I want kids to be excited and I want them to take something away. I've had a lot of kids this summer come out here and help me and that's because they want to. They know how excited I am about this. Even the parents are very supportive of the ones that I have had in the past and I won't have any more of their children. But they are excited to help me and see it grow because they know it's in my blood."

Ms. Bennett said it was all about problem solving. " It's all about problem solving. When I try this there is the possibility that it might not work. And that is ok. And if it doesn't work, I know that I can go back to the drawing board and figure out something else. It's all about problem solving. And we never, ever, ever, most of the time have a major problem that you can solve in one try. Because sometimes you miss something. You miss a factor. But you can arrive at something as long as you can analyze the problem and arrive at a solution. I want my teachers to see that failure can empower a kid to think critically. Not in just the STEM classes but in all aspects of learning."

Hale added to that, "We haven't been taught to wait for the answer. It is that wait time. To give a kid a question to pose a problem and give them the time to think through it . Educators need to sit back and give them time to work out the problem. Just leave them and let them figure out the solution. We are back at that failing forward again where they need to learn to fail and then learn from that and move on. You are not going to get a certificate every time. They are not going to get a trophy every time. They have to learn how to lose. To learn how to fail gracefully."

Ms. Bennett showed a lot of excitement when talking about the new STEM program. "I'm just excited about this being something new to our school and the impact it's going to have throughout the school. Because when you talk about STEM that's critical thinking, when you are reading, that's critical thinking, when you solve a math problem, you are thinking critically, when you are analyzing an event in history, and you are trying to keep that from happening again, or understanding the why, you are thinking critically. Being able to be in an environment where it's safe to think differently it's safe to be arriving at a different answer or response, I think the that's going to impact our school on a wider scale and in the regular classroom within the content areas. Everything is for a reason and I feel like STEM is for a reason. It's because it is there for the kids."For more information on the STEM program, call Mrs. Hale or Ms. Bennett at Fred A. Anderson Elementary School, 252.745.4611.