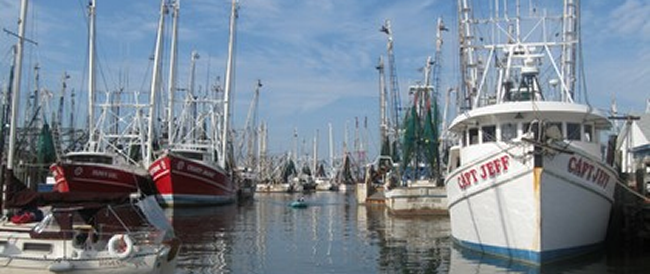 News from the 9/13/2017 issue
Looking Back....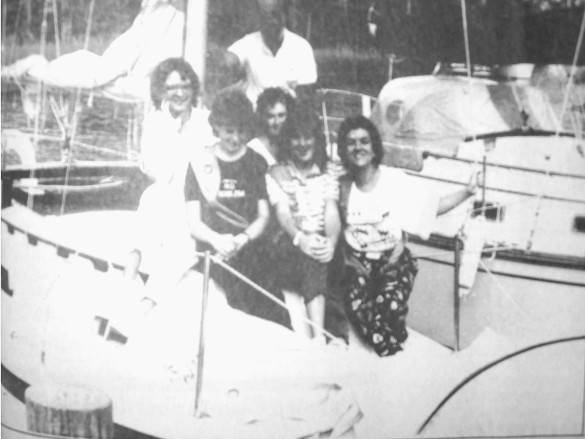 Sail The Neuse For A Cause

The Oriental Cup Regatta is back to Oriental for its 29th year on September 15-17. Sailors will gather for the weekend event to help raise money for the Bill Harris Memorial Scholarship Fund. It's a weekend of sailing and racing, good food and live music, happening at the site where it all began. The Story Of The Oriental Cup Regatta And The Bill Harris Memorial Scholarship:

Throughout the late 1970s and 1980s Bill and Brenda Harris owned and operated the Oriental Marina and Restaurant. "The Marina" was truly the home base of the sail-ing community at this time. Bill and Brenda continued to build the excellent reputation of the restau-rant that they took over from Sue Ragan. The Harrises were warm and friendly. Their great personalities attracted folks to the establishment. They were extremely attentive to the needs of boaters, who were welcomed with open arms in both the restaurant and upstairs at "The Topside." Sailors had it made as they enjoyed the wind and waters of the Neuse River by day and great food and friends at The Marina by night. Bill and Brenda did it right.Bill was a 1959 graduate of Pamlico County High School, where he was the captain and quarter-back of the football team. He was a gifted student athlete who served as student government officer. He was voted the "most popular" male student of the class of '59. In 1963, Bill graduated from North Carolina State University. While there, he served on the Honor Code Board and was a member of Delta Sigma Phi Fraternity. After graduating from State, he worked for the U.S. Department of Agriculture, but he soon found his way home to Oriental.

Bill and Brenda's sons, Bill Jr. and Brad, attended PCHS. Taking after their father, they were both excellent football players themselves. Athletic skill ran in the family, as Brenda herself was an All American basketball player. The Harrises were strong advocates for sports programs at PCHS. The PCHS Booster Club had faded away and Bill and Brenda were instrumental in reviving the organization and bringing new life to the club. To raise money for PCHS athletics, Bill began the Annual Booster Club Gala. Bill and Brenda spearheaded the drive for the new football stadium which was built in 1988 and named in memory of Jeff Cowell.

In 1989, Bill, who touched so many lives, passed away unexpectedly. His family and friends thought of a wonderful way to keep Bill's memory alive. They would combine his dedication to the sailing community in Oriental with his commitment to Pamlico County High School athletics.

And so, the Oriental Cup Regatta began as a fundraiser for the Bill Harris Memorial Scholarship. What better way could we celebrate Bill's memory than with a day on the river followed by great food and music, with all proceeds going toward the scholarship. The Regatta has become a sailing tradition in Oriental, bringing people together from across the state in friendly competition. As you race past Garbacon, Adam's Creek, and Oriental 1, sail fast, and as you cross the finish line, tip your hat to Bill.Visit the Oriental Cup Regatta website or Facebook page (Oriental Cup) for the full schedule. Visit www.orientalcup.org to register, order land passes and order a T- shirt.

---

Fay Bond attended a performance by the Second Marine Aircraft Wing Band stationed in Cherry Point at Lou Mac Park last week. The event was sponsored by Croaker Festival, Inc. after an overwhelming response from the public following their performance at this year's festival.

---

Kindergarten Meteorologist Wows School With Knowledge

Clara Jade Eggers sure knows a lot about Hurricane Irma and for that matter, the other two storms that were/are out in the Atlantic Ocean! It was dismissal time last week and our principal, Mrs. Dixon was visiting with kindergarten students lined up waiting to go home. Clara told Mrs. Dixon that there was a storm coming named Irma and it was a hurricane. Our Pre-K teacher, Mr. Chris asked Clara if it was a boy or girl storm and Clara said "no, it's a bigga bigga storm and told them that it was going to Florida," which blew Mrs. Dixon away. Mrs. Dixon decided Clara needed to make an appearance on our Afternoon news show the next day to give the school an update.

Thursday afternoon Clara made an appearance with Gia during our weather segment on the Afternoon news. A rather reserved Clara told everyone to make sure to prepare and keep your pets safe and make sure you have an ax in case you have to go into your attic to get away from flood waters. The next day a 2nd-grade Afternoon news student, Gia Kornegay, interviewed Clara in a video about Hurricane Irma and the pair were quite entertaining to watch. Clara has a big personality which really came out while making the video. Clara gave her report enhanced with hand gestures, playing with her hair, and facial expressions. At the beginning of the video, Clara put her finger up in the air and in a matter of fact tone stating, "Just so you know guys that if the hurricane comes anywhere near you go stay with your relatives or in a hotel far away." Clara informed students that the power may go out and you might be without power for several days. Gia asked Clara how to prepare for a hurricane and Clara told everyone that you should go get lots of water and food but be aware that if your power is out, you can't use your refrigerator or freezer.

To view the newscast or the video that Clara and Gia made, please visit our school web page at http://pcps.pamlicoschools.org and click on the YouTube link.

Several times Clara mentioned that her grandpa had told her information, Like the fact that a hurricane is worse than a tornado because it can cause more damage. Clara was well aware of weather radar and it was clear that she had been studying the news reports.

At the end of the video, Clara said she wanted to become a meteorologist when she grows up because of all she has learned about Hurricane Irma, but then quickly changed her answer to she wants to be the boss of the meteorologist, which cracked Gia up! We have no doubt Clara has a bright future as a meteorologist or the boss of one when she grows up!

---

PCC To Host Annual Pamlico Business EXPO & Job Fair

By Sandy Wall, Pamlico Community College

An enjoyable time is expected when the local business, restaurant and music talent sectors are spotlighted at the 2017 SPOTLIGHT Pamlico Business EXPO & Job Fair, scheduled for Tuesday, Sept. 19, from 4 to 7 p.m. at Pamlico Community College's Delamar Center.

The event is a combined effort between Pamlico Community College's Career Center, Pamlico County Chamber of Commerce and Pamlico County Economic Development."Everyone from job-seekers to shoppers to those looking for an enjoyable evening are invited to come out and enjoy the free event. It will showcase what we have available here," said Lisa Thompson, treasurer of the Chamber of Commerce, one of the event's primary organizers.

Beth Bucksot, Director of Economic Development for Pamlico County, another key event partner, added: "Businesses, restaurants, musicians and non-profits will be showcasing their goods and services. We also welcome businesses and organizations from outside our county who serve our citizens."

More than 30 businesses and organizations are currently signed up to take part in the event's EXPO portion, which has 11 sponsors. Organizers expect the usual late comers to fill the few remaining spots.

Meanwhile, 15 other businesses and non-profit groups have signed up to take part in the Job Fair. As part of that, the college's Career Center is featur-ing a series of workshops on obtaining a job, and job-seekers are encouraged to bring their resumes to the Sept. 19 event. The event's overall theme is "Spotlight Pamlico," and organizers have been working for months to ensure everyone who attends the EXPO/Job Fair has fun, learns something about local commerce and potentially finds a great new job. "We invite people to come and have an enjoyable time while supporting and becoming educated about what is available in their community," said Bucksot.

"You can sample food from our amazing restaurants. Add the vari-ety of music to the food samples and the smiling faces of our friendly businesses and non-profits, and the fun begins! Last year's event attracted lots of attendees who reported really enjoying the event, and participating businesses were very pleased with their outcomes."Organizers say the event's other features include health checks, door prizes, classic cars display, $100 Shop Local drawing, a 50-50 raffle plus a Judges and Taster's Choice competition between the restaurants that are providing samples of their tasty menu items. They encourage attendees to donate diapers to support the River Time Civitan Club diaper drive, "No Child Wet Behind." The club will accept donations of disposable diapers at the Pamlico Partnership for Children booth.Organizers also pointed out that residents will be able to see what local businesses have to offer the community, particularly in this era of online shopping.

"We need to educate ourselves about what is available in our area and support the businesses in our communities that provide local and regional jobs, support our schools and non-profits, and add to the tax base that provides revenue for necessary public services," Bucksot said.

"The Business EXPO and Job Fair is exactly the kind of event we enjoy hosting at Pamlico Community College," said PCC President Dr. Jim Ross. "The college's Career Center, the Chamber of Commerce and the county's Economic Development Office all have worked hard on this for several months, just as they work hard every day to make our community better. I feel confident that everyone who comes out for this community-minded event will be glad they did."

For more information, call 252-745-3008 or 252-745-3081.

Sandy Wall can be reached at 252-249-1851, ext. 3010, or swall@pamli-cocc.edu.