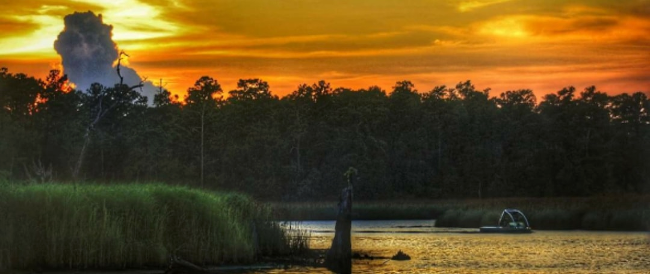 News from the 8/15/2018 issue
Read to combat hypertension, it works!

John Jones, learned his BP was abnormally high at the library's checking station. Kat Flowers, librarian, asked him to sit and read for 10 - 15 minutes. He did; his BP dropped to normal. Elaine Sachau, she reads to help keep her BP normal.

Bayboro_ High blood pressure is often a catalyst for heart disease and a precursor for stroke. Under the umbrella of cardiovascular disease, heart issues are the 2nd leading cause of death in Pamlico Country. Managing hypertension coupled with frequent blood pressure monitoring can diminish the chances of falling victim to heart disease and stroke. Kat Flowers, librarian for the Pamlico County Library, reports that a grant from the The Community and Clinical Connections for Prevention and Health Branch of the North Carolina Division of Public Health, along with the donation of a blood pressure machine from Bayboro Pharmacy, has made it possible for the library to establish a free blood pressure checking station.

She said, "We want to keep the county's residents happy with providing the best reading material possible and at the same time keep them healthy. We are hoping they realize the connection between reading and health, especially in terms of blood pressure. High blood pressure can be a silent killer. People often don't realize that they have it because it has no warning signs of symptoms."

She added, "We know that reading is much less expensive than blood pressure medications. And it should be obvious that reading has no ill side effects like some pharmaceuticals. When John Jones came in and checked his pressure, his reading was 176 /66. The effect of reading for a few minutes lowed his BP to 113/67. The Obesity, Diabetes, Heart Dease, and Stroke Prevention (ODHDSP) Project, funds resources and programs to increase awareness on physical activity and nutrition as a preventative to heart disease and stroke.

Bayboro Pharmacy Owner, Lori Brinson Altman, collaborated with the ODHDSP Project to play a part in improving health resources to Pamlico County residents. She said, "We wanted to promote self-monitored blood pressure, give individuals the ability to monitor their blood pressure without visiting a healthcare professional, and increase access to health resources. Placing the blood pressure machine in the library gives options and access to everyone, especially individuals with limited income."

According to Flowers, "Losing yourself in a book is the ultimate relaxation. Studies have proven that reading can diminish stress in individuals by up to 68%, making the library a great venue for the blood pressure station. And remember, reading in the library and having a blood pressure check is free to the public."

The Pamlico County Library is located at 603 Main St, Bayboro, NC. To learn more, call (252) 745-3515.

---

Burlington woman drives 3 hours to register for classes at PCC

Grantsboro_ Kimberly Shoff-ner knows exactly what she wants to do with her life now, and Pamlico Community College is going to help her make it happen. Shoffner drove more than three hours from her home in Burlington last Wednesday to sign up for classes. Her goal is to enroll in the college's Electroneurodiagnostic Technology (EDT) program and become qualifiedto conduct studies on patients' brain waves.

"This is my dream," the 49-year-old said enthusiastically. "I'm passionate about it. I knew that I wanted to do this. I drove all the way here from Alamance County because it's so exciting!" Shoffner's passion for studying the brain began after her 24-year-old son started suffering seizures as a child. He eventually was diagnosed with nocturnal frontal lobe epilepsy. Shoffner, who describes herself as a woman of great faith, believes her experiences as the mother of a special needs child have prepared her for this new phase in her life.

"I did not choose this path for myself," she said. "I believe I can make a difference by using what I know and learning more to help someone else." PCC is currently one of only two community colleges in North Carolina offering an EDT program, and PCC is the only college that offers its EDT associate's degree program entirely online. The program is accredited by the Commission on Accreditation of Allied Health Education Programs and is headquartered in the college's Delamar Center.

The program trains students to conduct sophisticated tests on the electrical waves in a patient's brain and spine. The tests can be essential in the diagnosis and treat-ment of neurological disorders. Shoffner grew up in Alamance County and enjoyed a long career in local government administration before deciding to pursue her EDT degree. Her husband, who works for Norfolk Southern Railroad in train signal maintenance, has been very encouraging, even joking that Shoffner soon will be employed in "brain signal maintenance."

PCC President Dr. Jim Ross said Shoffner's experience shows men and women can reinvent them selves and pur-sue their passions at any age. "I salute Kimberly Shoffner for pursuing her dream of helping make other people's lives better," he said. "That's our college's primary mission. We're here to help people improve their lives and the lives of others."

After signing up for classes Wednesday, Shoffner made the long drive home to Burlington. In an email, she praised the college's faculty members and staff for their help."My enrollment experience at PCC far exceeded anything I could have hoped it would be," Shoffner wrote. "Everyone was so helpful at PCC from the moment I stepped onto campus. Truly, everyone seemed to take as much joy in helping me navigate registration as I felt in being there to begin my college dream. I couldn't be more grateful for everyone's participation in making this one of the most memorable days of my life.

There's still time to register for seated and online courses this semester. New and returning students can still register for seated courses as long as they sign up before the firstday of class, which is Monday, Aug. 20.

Meanwhile, students who are interested in online classes can sign up until the firstday of class for those web-based offerings, which is Wednesday, Aug. 29.

Contact the college's Student Services staff members at 252-249-1851, ext. 3001, or at studentservices@pamlicocc.edu via email to discuss the options available.

Sandy Wall can be reached at 252-249-1851, ext. 3010, or swall@pamlicocc.edu.

---

At this point, the rumors are just rumors

Arapahoe_ Rumors about a possible livestock operation within the confines of Arapahoe near the intersection of NC 306 with Kershaw Road, Neuse Road, and Seafarer Road, at this point, are just that, rumors. The rumors of a farming operation in the town limits was discussed at the last town meeting, but as of Monday, August 13, no resident has approached the board with either a request or a complaint. Arapahoe Mayor, Frank Brinson, said, "I have heard no factual in-formation about any farming operation in Arapahoe. For all I know, it is all rumor at this point. I cannot speculate on what is rumor. There is just little we can say having no facts of any type."

According to Brandi Robertson, a member of the Arapahoe Town Board, "Because of the rumors, I have researched existing ordinances about livestock in the town. "I found nothing that restricts ownership of livestock, but I did discover an ordinance that addressed issues such as this in general terms. In essence, the ordinance states that no resident can engage in activities on his/her property that degrades the quality of residential living in the town."

She added, "Town board meetings are open to the public. Residents can attend and learn some really relevant things about their town, its ordinances, and the operations of the town government." According to Robertson, it is believed the rumors began to circulate when the Tom Boyd house, most recently the home of the late Julia Ward Peterson, a descendent of Mr. Boyd, was sold to an individual who allegedly raises chickens and goats. That also is rumor, not substantiated fact.To learn more, The Pamlico News visited the house which is the subject of the rumors, but no one was home. The Arapahoe Town Board meets the first Thursday evening of each month in the Town Hall in front of the Arapahoe Fire Department.

---

NC AG submits comments on off-shore drilling

Roadside sign on NC 55 in Pamlico Country advertising op-position to drilling off NC Coast.

RALEIGH_ Pamlico County borders the southern end of Pamlico Sound which joins the Atlantic Ocean at at several inlets. The County has a vested interest in regulations that can impact local waters. Attorney General Josh Stein Opposes Plans to Weaken Regulations on Offshore Drilling. Stein has submitted comments opposing federal plans to significantly revise the Well Control Rule on the Outer Continental Shelf. This rule, finalized after the Deepwater Horizon oil spill, includes design and operational requirements for offshore drilling equipment, more robust inspection, verifiction, and reporting requirements. "Protecting the people of North Carolina also means protecting our environment and coastal economy," said Attorney General Stein. "I oppose efforts to weaken the regulations that safeguard our beautiful coast and its residents from environmental and economic damage." The proposed rollback of this rule coincides with the Bureau of Ocean Management's plans to expand offshore drilling to areas where they are currently nonexistent, including North Carolina's coast. The Attorney General is against weakening rules while off-shore drilling is proposed for areas least equipped to respond to spills. North Carolina is joined in this opposition by Attorneys General from Maryland, Connecticut, Maine, Massachusetts, New Jersey, New York, Virginia, Oregon, and Washington .