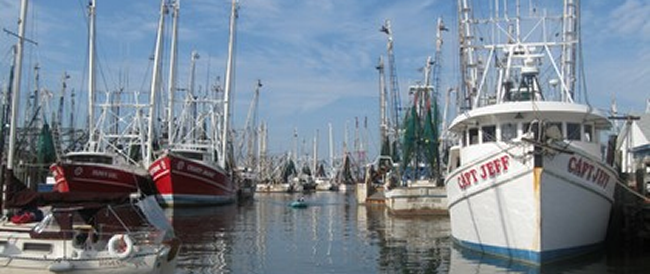 News from the 2/14/2018 issue
Looking Back....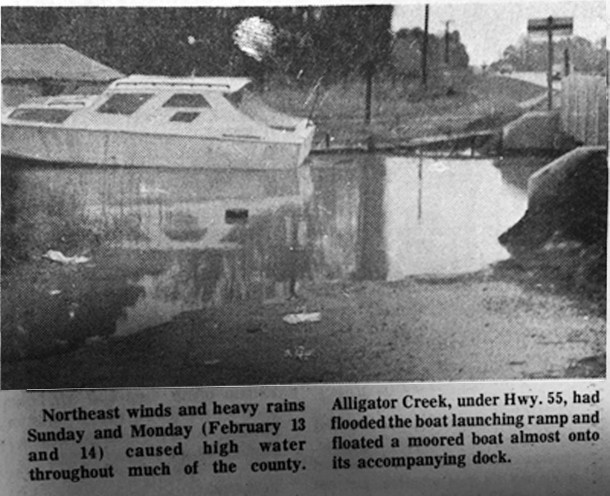 Hurricanes: A Perfect Storm

By William Hampson

On a normal fall day, in November 2017, Pamlico County Middle School Hurricanes set out, unknowingly, on a path destined for greatness. It was the first of a three day basketball tryout for 45 young men from grades six, seven, and eight. Coach Jaime Gibbs and Coach Bill Hampson had their work cut out for them. Coach Hampson stated: "Coach Gibbs and I realized we only had three one and a half hour sessions to evaluate and reevaluate these boys in order to get the roster down to fifteen players. With sixth-graders allowed to tryout this year for the first time, it made the talent pool deeper and more competitive." Although tough decisions were made, the team's roster was eventually set at fifteen. The roster included eight eighth graders, four seventh graders, and three sixth graders all on the same mission. That mission was to win the confer-ence and the conference tournament.

Regan Shields was one of the sixth-graders who made the team. When asked how it felt to try out and make the team Shields responded: "I was nervous beforehand. After I made the first cut I was really excited! Being one of the first sixth-graders to play for Pamlico Middle School was probably the greatest experience ever because I knew I would get to play with some great players. Overall, the experience has made me a better player."

Prior to practices beginning the second week of November the players were briefed as to what was expected of them, not only on the court, but, more importantly, in the classroom. They were reminded that, as student-athletes, they were, above all, students first. The players had their own expectations as well. Regan Shields said: "I was hoping to win more games than we lost."

Coach Gibbs and Coach Hampson held a parents meeting in which Coach Gibbs explained: "Our mis-sion is to turn these guys into young men. Also, don't judge us on how we start the season, judge us on how we finish." This quote would prove to be quite prophetic. Led by tri-captains JD Gibbs, Dez Bragg, and Zymir Best, the 2017-2018 basketball season was finally underway. Only six practices stood in the way before their first game on November 28th against conference foe West Craven Middle School. Pamlico won that game. The home opener two days later had Pamlico hosting Grover C. Fields Middle School. A game they would win. The Pamlico Hurricanes were 2-0, a great start destined to continue.

Victories by the Hurricanes followed against arch-rival Havelock Rams, Jones County, HJ Macdonald, and Tucker Creek middle schools. The Hurricanes were now 6-0 and headed for a much needed and well deserved Christmas break.The first game of 2018 was post-poned due to inclement weather, as were a number of other games in the upcoming weeks. These setbacks aside, the Hurricanes traveled to Havelock and were able to secure a hard fought victory to remain undefeated at 7-0. The next few weeks saw the team play host to Jones County Middle School, HJ Macdonald, Tucker Creek, and West Craven and a visit to Grover C. Fields. During this stretch the boys played 5 games in the span of just 9 days. Despite physical and mental fatigue, the mighty Hurricanes persevered and were able to clinch the conference with a 10-0 record on Wednesday, January 24th against Grover C. Fields.

They finished the five game stretch at 11-0. The final game of the regular season shored up a perfect record of 12-0, the number one seed and home court advantage in the postsea-son tournament. One player stated after the game: "Going undefeated was a great feeling. We just focused on one game at a time and right now our focus is on our first playoff game." That focus payed off. February 1st pitted the Pamlico Hurricanes versus Grover C. Fields Grizzlies in the first conference playoff game. The game was tied fifteen apiece at halftime. The home crowd was buzzing in the sec-ond half as Pamlico outscored its opponent 23-7 in the second half resulting in victory with a final score of 38-22. The finals were only one short week away. West Craven's defeat of Havelock that same night provided the much anticipated matchup for the finals. Only seven days separated the Hurricanes from a championship and a highly coveted perfect, undefeated season.The Coastal Middle School Athletic Conference Tournament final took place on February 7th. Being conference champions afforded the home court to Pamlico.

West Craven and Pamlico squared off before a capacity crowd. The tip off started the match precisely at 6 P.M. Four quarters or 24 minutes was all that stood in the way of a historic Hurricane season. The game was filled with excitement and athletic fervor as both teams struggled early on resulting in a paltry score of 6-4 after the first quarter. Pamlico was losing, but not for long. The mighty Hurricanes bounced back in the second quarter and went into halftime leading 20-16. They would not relinquish the lead again. Being up by as much as 12 points in the second half, Pamlico secured a 39-33 victory and title of tournament champions. The team was presented with two trophies: One for the conference and one for the tournament. The season was over. The Hurricanes were 14-0.Coach Gibbs' statement to the parents before the start of the season about not judging the team on how we start but on how we finish most certainly rang true. The Pamlico Middle School Hurricanes proved to be the "Perfect Storm!"

---

Photo taken by Dale Bond 2 years ago. Submit your photos to: frontdesk@thepamliconews.com

---

Electric Bill Out In The Cold?

by Valerie Calcavecchia

All the below normal temperatures have surely resulted in one thing that all of us must cope with: how to pay the heat bill. If you happen to utilize electricity for your heat source, we have found on average that service from mid-November to mid-December compared to service from mid-December to mid-January has in many cases, as much as tripled or more in the cost to the consumer during this cold spell.

If you are a Duke Energy Progress residential customer and are experiencing any hardship with elevated bills, you should not delay in contacting Duke to make proper arrangements. Their website (www.duke-energy.com) boasts several financial options to explore. The site highlights a "Moratorium Program" from November 1st to March 31st for households that have a senior citizen over 65 or a qualified disabled person. They also outline a Preference (delay) Pay program for seniors. The Duke Energy Progress "Careline" is 1-800-622-7030. Tideland EMC is also an electric utility that services Pamlico County. The Pamlico News spoke with their Manager of Economic Dev. & Corp. Communications, Ms. Heidi Jernigan Smith who shared some very dynamic recovery solutions for the high energy bills gen-erated this chilly winter. Tideland has two terrific payment program options available; Levelized Billing and FlexPay.

Some information is on their website (www.tidelandemc.com) or for more details you can contact their Helpline at 1-800-637-1079 (24 hours a day, 7 days a week). In summary, Levelized Billing is available to customers that have a good payment history with the company. This program effectively bills the rolling average of your usage (from the high to low) soften-ing the blow of extreme high usage months. FlexPay is a "Pre-pay" program (much like filling up your car with gas) that does Not require a security deposit nor does it level any reconnection fees. These accounts are equipped with an "auto switch" and the company is not required on-site to manage the service. Any number of payments, for any amount can be made during the month based on usage that is monitored and communicated via email or texts alerts. This process provides the information needed for one to make very specific daily decisions on usage (like not running several large appliances all at the same time).

Either way, Ms. Smith emphasizes for anyone experiencing stress and anguish of how to cope with elevated bills to please call their friendly Tideland office right away to discover and discuss the option that will be right for you.If you are simply annoyed by your elevated Tideland EMC bill but not experiencing hardship, please consider participating in the Operation Roundup Program that the company offers! This wonderful program provides support to those less fortunate and unable to absorb the higher usage bills. "Operation Roundup" rounds the cents of your last bill UP to the next dollar and donates the "change" to the program. You can enroll on your statement or log-in to your account online or call customer service.

You can also name a monthly donation amount above "the change" if you would like to contribute more. Donations are tax deductible. Currently, only 10% of the residential accounts in this cooperative are enrolled and contribute to Operation Roundup. Even so, during 2017 $26,800 was distributed across 306 grant applications serving those in temporary need. Since January 2018 was a particularly harsh month, $8,066 (30% of the 2017 fund) has been distributed in just this one month to help those who budgets won't absorb the weather related increases.Even though Spring is just around the corner, let us not forget that Prevention is the Best Medicine.

Make sure you are efficiently using your energy through conservation, wrapping hot water heaters in an insulated jackets, wrapping hot water lines, cleaning air filters, clos-ing fireplace dampers when not in use, unplugging electronics (phone chargers and the like) when not in use, and insulating doors and win-dows. Take advantage of the Tideland EMC "High Usage Alert" sys-tem to let you know through text or email alerts when your household may be experiencing weather stress, careless use, appliance breakdown or maybe something more structural like ducting has become an issue.

Enroll online today to minimize and catch potentially expensive issues early! One Day you may be very glad you did!If you are a member of a community organization or church that would be willing to work a "Weatherization Project" to help seniors and other households to achieve maximum energy comfort and effi-ciencies please contact Tideland's Heidi Smith at 252-945-7891. After you experience helping out all those appreciative smiling folks, this also will be a thing you were glad you did!

---

Keith Bruno Named President Of NCCHA

The North Carolina Coastal Heritage Association inaugurated its 2018 agenda with a general membership meeting Tuesday, February 6 at The Bridge DownEast on Harkers Island, NC.Commercial fisherman Keith Bruno of Oriental, NC was elected president. A strong advocate for a common sense approach to this industry, he is often sought by UNC-TV and area media outlets to provide narratives on many aspects of coastal heritage, from family life to the science of sustainable resources.

Returning as a board member for 2018, Keith Smith, publisher of TOWNDOCK.net said, "Keith Bruno is coastal heritage, live and in living color. I look forward to working with him to make good things happen in 2018."

Bruno explained that coastal heritage had been ingrained in his family for multiple generations. "I am honored to be given the opportunity to help preserve our heritage. Our lifestyles, our stories, our people. We might be a throwback to another era; we are definitely not comfortable in a disposable society, and all of our coastal people are worth learning from and protecting. Going forward together and meeting the challenges that we all face in a modern society, we can all help remember and learn from the past while living in the present."

Joe Miller, Production Manager, at The Pamlico News, and resident of New Bern, NC was re-elected vice-president. Michael B. Fulcher of Stacey, NC was elected secretary/treasurer. Barbara Valentine of Nashville, NC, was elected as a new board member.

Ms. Valentine observed, "I have followed the Association closely during its first year of operation in 2017. I am genuinely amazed at what has been accomplished in just one year. I have known some new organizations that took years to be where this Association is after just one year. My late husband, Congressman Tim Valentine, was an ardent advocate for preserving both our cultural and natural heritage. I'm confident he would have been a strong supporter of this group."

A grant from the estate of the late Frances Mae Carawan from Lowland in Pamlico County provided the means for the Association to organize and begin work. This grant was followed by contributions from numerous donors, a grant from the Altria Foundation, and donations from a contingent of Eastern North Carolina residents contributed in memory of Congressman Tim Valentine.

In 2017, the NCCHA sponsored the construction of a Core Sound workboat built by Heber Guthrie, a Harkers Island native. The boat will be a traveling classroom on rack-of-the-eye boatbuilding techniques. The Association also lent strong support to a series of heritage boat building and sailing classes to Core Sound youth. A project of Ben and Carolyn Casey, documenting Core Sound voices in a yet to be published book, Sound People, was also supported by the Association.

At the membership meeting on Tuesday, attend-ees were treated to 2 mesmerizing retrospectives from Harkers Island natives, Will Guthrie and Red Brooks, both 83. Close friends since first grade, they shared highlights of their lives and occupations growing up and living in their coastal environment. The two would meet at the Brooks home after school and take a small skiff out to clam or fish. Heber Guthrie, Will's younger brother, said, "Sometimes it would be after dark when Will came home, but our mother never worried if she knew Will was with Red."

Red Brooks and his brother built a charter boat and worked that for a few years. Then the family built a trawler, about 50 feet long, quite large for Core Sound in the mid 1960s, and used it primarily for shrimping. Will Guthrie built boats for commercial fishing all of his adult life; Red Brooks and his family did as many fishermen did. Instead of hiring a boatbuilder, they built their own boat, put their carpentry tools aside, and fished with it until they felt they needed a different boat. The tools would then come out again.Noting that documenting and preserving coastal heritage is the core of NCCHA mission, Bruno said that in addition to continually supporting Heber Guthrie's heritage boatbuilding classes and Sound People, the Association would look at the feasibility of recording the voices of seasoned coastal veterans and subsequently creating a library of DVDs available to every school system and museum in the state.

Bruno said, "I could see this effort being simi-lar to the project of recording veterans of World War II which Tom Brokaw labeled The Greatest Generation. Since coastal heritage as we have known it is disappearing, there is a sense of urgency that we begin planning tangible ways to document and preserve the heritage of the generations that lived and worked in small coastal communities."

Dennis Chadwick, from The Straits, the water route to Core Sound west of Harkers Island, is a retired captain from the NC Ferry Division's Cedar Island to Ocracoke run. A graduate of NC State University with a degree in horticulture, he, like so many Core Sound natives, chose to return to coastal waters for a maritime career. He invited Brooks and Guthrie to be the program for this business and general membership meeting of NCCHA.

Bruno's description of his background is an example of a lifestyle that would be recorded. "I am a family man. I have two sons, ages 18 and 20, and the love of my life, my very understanding wife, Marianne. I keep parrots in my home and raise Anatolian shepherd dogs. Almost as important as being a family man, I am a commercial fisherman. I have very fond and vivid memories of my entire life that revolve almost entirely around the coast. I am fortunate to have fished with my grandfather, my father, and my sons. I married my wife on my commercial fishing boat. I also changed diapers on my boat. For me, family and fishing go hand in hand."

Looking to NCCHA's new year, the outgoing charter president, Barbara Pearson of Oriental, said, "I couldn't be happier to turn the reins over to such a wonderful man. He will indeed be an asset to NCCHA. I can't wait to see what he does and where he takes this great Association. He probably won't need my help, but I will be here for him if he does."

Visit nccoastalheritage.org to learn more, join, or donate to finish and/or expand the service area of projects underway. Questions can be forwarded toinfo@nccoastalheritage.org

---

Modest Leary Named President's Award Recipient At PCC

Pattie Leary, left, is congratulated by Pamlico Community College President Dr. Jim Ross after he announced she was the recipient of the 2017-18 President's Award. Contributed photo

By Sandy Wall, Pamlico Community College

"Pattie Leary is an extraordinary professional and an outstanding human being," stated Pamlico Community College President Dr. Jim Ross in awarding her the second annual President's Award. Ross noted that Leary never sought or expected any special award or recognition for her work with the Community Living class at PCC but that she richly deserves it. In fact, the Lowland native refuses even to use the word "job" when describing her time at the college.

"It wasn't a job, it was a blessing every day," said Leary, who retired in December. "It's just so rewarding, the environment within the classroom that is positive, uplifting, inquisitive and educational. The focus should always be on the students."

Ross established the President's Award in 2016 to honor a college employee who is truly exemplary in being positive, professional and productive while improving the college and its services to the community.The president announced Leary's selection at the college's 2017 Holiday Banquet. PCC Maintenance staffer Herman Turnage, who also retired in December, was the recipient of the inaugural President's Award.

"Pattie Leary is exactly the kind of person I had in mind for the award," Ross said. "She was always very positive, very helpful and friendly, and she was committed to her students and their development. Her work here has been an inspiration to me and to others on campus, and she has helped to dramatically improve the lives of her students, their families and this community."

Leary formerly was the lead instructor for the Community Living class, which consists of 10 to 12 developmentally disabled adults ranging in age from 21 to 67. Using state curriculum guidelines and projects developed by its instructors, the program strives to teach men and women the life skills they need to function at home and in society.

Skills Leary taught were based on individualized levels and included all academic subjects, health and safety, etiquette, hygiene, personal banking, cooking, cleaning, laundry, CPR, communication skills, community awareness and rights as citizens.

"There was just a whole lot of learning going on there," Leary said, recalling stories about how a non-verbal student learned to participate in class and how more advanced students often spent time assisting their classmates grasp concepts.

Along the way, students are reminded how to interact with one another. They frequently take field trips, hear from guests speakers and write about their experiences in journals. At Christmas time, PCC's Community Living class puts on a well-received holiday show."The Christmas play was all them," Leary said. "They came up with the storyline, and (Instructor) Darlene Willis and I made it happen. Creating a script induced creativity, rehearsals taught perseverance, patience and teamwork."

The job requires passion, patience and lots of love, but Leary insists she always got more out of the class than her students did."In our classroom I was both student and teacher," she said. "They taught me compassion and forgiveness. They just want to learn, be heard, listened to, included, loved, and, most of all, independent."

Leary's path to Community Living teacher began when she worked for 10 years in the mental health field in New Bern.She later spent some time working with Easter Seals, and then became a classroom volunteer. After taking a course in substitute teaching at PCC, she became a middle school substitute teacher."I really loved it when I got into it," Leary said, adding that she never planned to become a teacher.In 2011, Leary began volunteering in PCC's Community Living class, which then was known as "Compensatory Education."

She eventually became a substitute teacher, then a part-timer and finally the permanent teacher."It just fell into place," she said.PCC was fortunate to find someone like Leary to lead the class, said Jim Privette, director of transition programs at PCC and Leary's direct supervisor."She brought energy and creativity as well as a fresh perspective," he said. "She struck the balance between the disciplines necessary for an organized classroom and the flexibility of nurturing a diverse group of students."

Privette says he can see the positive change Leary has had on the students."She helped all of them mature," he said. "Pattie has built the students' confidence. Today, they will look you in the eye and engage in conversation. This would not have happened for a number of them some years ago."Leary said she was surprised to learn Ross wanted her to receive the President's Award."I felt others were more deserving. I told him, 'You need to give this to somebody else,'" she said with a chuckle.

However, she relented, saying she was humbled by the honor and was appreciative that her students would receive some recognition.Leary thanked several area organizations for their support of the Community Living class in recent years, including Wardens Grove Free Will Baptist Church, the Goose Creek Island 55-plus Club, Bayboro United Methodist Church, New Vision PH Church, River Time Civitan Club, Pamlico County Courthouse employees, family and friends.

Leary decided to step down from her post so she could help care for her first grandchild, who was born last September. She has two grown daughters, and she has been married for 34 years.Betsy Bailey now leads with Community Living class, with assistance from Darlene Willis.Leary loves spending time with the baby, but misses her students and her role in the classroom – but, again, she insists that you not call it a job."It's just a rewarding position," she said. "There's nothing like that. It was just a blessing to me. They always brought a smile to your face and a blessing to your heart each day."

Sandy Wall can be reached at 252-249-1851, ext. 3010, or swall@pamlicocc.edu.