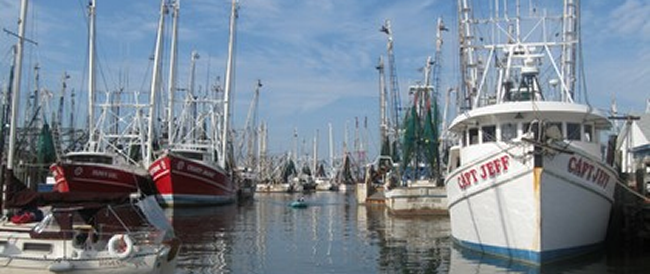 IN THE GENERAL COURT OF JUSTICE OF NORTH CAROLINA
SUPERIOR COURT DIVISION
PAMLICO COUNTY
17SP10
IN THE MATTER OF THE FORECLOSURE OF A DEED OF TRUST EXECUTED BY PHILIP T. HEDRICK DATED FEBRUARY 17, 2005 AND RECORDED IN BOOK 440 AT PAGE 393 AND MODIFIED BY AGREEMENT RECORDED ON JULY 21, 2005 AT BOOK 450 PAGE 608 IN THE PAMLICO COUNTY PUBLIC REGISTRY, NORTH CAROLINA
NOTICE OF SALE

Under and by virtue of the power and authority contained in the above-referenced deed of trust and because of default in the payment of the secured indebtedness and failure to perform the stipulation and agreements therein contained and, pursuant to demand of the owner and holder of the secured debt, the undersigned substitute trustee will expose for sale at public auction to the highest bidder for cash at the usual place of sale at the county courthouse of said county at 11:00AM on May 3, 2017 the following described real estate and any other improvements which may be situated thereon, in Pamlico County, North Carolina, and being more particularly described as follows:
All that certain tract of parcel of land lying and being situate in Number Five (5) Township, Pamlico County, North Carolina and being more particularly described as follows:
Being all of Lot Number Thirty-three (33) as same is shown and delineated on a map entitled "A PLAN OF LAKE MINNESOTT ESTATES, SECTION EIGHT, LOTS 31 - 44", said map prepared by A. Hugh Harris, Jr., PE-RLS, dated January Registry. Said Lot Number Thirty-three (33) also being delineated on a survey prepared by Hubert J. Nobles and attached to the deed recorded in Book 435, at Page 5, in the Office of the Register of Deeds of Pamlico County.
This conveyance is made subject to those certain restrictive and protective covenants recorded in Book 286, at Page 809, in the Office of the Register of Deeds of Pamlico County.
And Being more commonly known as: 572 Country Club Dr West, Arapahoe, NC 28510
The record owner(s) of the property, as reflected on the records of the Register of Deeds, is/are Philip Hedrick.
The property to be offered pursuant to this notice of sale is being offered for sale, transfer and conveyance "AS IS, WHERE IS." Neither the Trustee nor the holder of the note secured by the deed of trust, being foreclosed, nor the officers, directors, attorneys, employees, agents or authorized representative of either Trustee or the holder of the note make any representation or warranty relating to the title or any physical, environmental, health or safety conditions existing in, on, at or relating to the property being offered for sale. Any and all responsibilities or liabilities arising out of or in any way relating to any such condition expressly are disclaimed. This sale is made subject to all prior liens and encumbrances, and unpaid taxes and assessments including but not limited to any transfer tax associated with the foreclosure. A deposit of five percent (5%) of the amount of the bid or seven hundred fifty dollars ($750.00), whichever is greater, is required and must be tendered in the form of certified funds at the time of the sale. This sale will be held open ten days for upset bids as required by law. Following the expiration of the statutory upset period, all remaining amounts are IMMEDIATELY DUE AND OWING. Failure to remit funds in a timely manner will result in a Declaration of Default and any deposit will be frozen pending the outcome of any re-sale. If the sale is set aside for any reason, the Purchaser at the sale shall be entitled only to a return of the deposit paid. The Purchaser shall have no further recourse against the Mortgagor, the Mortgagee, the Substitute Trustee or the attorney of any of the foregoing.

SPECIAL NOTICE FOR LEASEHOLD TENANTS: If you are a tenant residing in the property, be advised that an Order for Possession of the property may be issued in favor of the purchaser. Also, if your lease began or was renewed on or after October 1, 2007, be advised that you may terminate the rental agreement upon written notice to the landlord, to be effective on a date stated in the notice that is at least 10 days, but no more than 90 days, after the sale date contained in the notice of sale, provided that the mortgagor has not cured the default at the time notice of termination is provided. You may be liable for rent due under the agreement prorated to the effective date of the termination.
The date of this Notice is April 12, 2017.

Grady I. Ingle or Elizabeth B. Ells
Substitute Trustee
10130 Perimeter Parkway, Suite 400
Charlotte, NC 28216
(704) 333-8107
http://shapiroattorneys.com/nc/

---

IN THE GENERAL COURT OF JUSTICE OF NORTH CAROLINA
SUPERIOR COURT DIVISION
PAMLICO COUNTY
15SP59
IN THE MATTER OF THE FORECLOSURE OF A DEED OF TRUST EXECUTED BY MICHAEL J. NORD DATED JULY 7, 2010 AND RECORDED IN BOOK 545 AT PAGE 601 IN THE PAMLICO COUNTY PUBLIC REGISTRY, NORTH CAROLINA
NOTICE OF SALE

Under and by virtue of the power and authority contained in the above-referenced deed of trust and because of default in the payment of the secured indebtedness and failure to perform the stipulation and agreements therein contained and, pursuant to demand of the owner and holder of the secured debt, the undersigned substitute trustee will expose for sale at public auction to the highest bidder for cash at the usual place of sale at the county courthouse of said county at 11:30AM on May 4, 2017 the following described real estate and any other improvements which may be situated thereon, in Pamlico County, North Carolina, and being more particularly described as follows:
All that parcel of Land in County of Pamlico, State of North Carolina as more fully described in Book/Page 466-284 and being more particularly described as follows:
A certain lot or parcel in Number Three (3) Township, Pamlico County, North Carolina, particularly described as follows:
Lot Number Twenty-Five (25) as shown on the plat prepared by Floyd L. Suitt, Jr., RLS, dated November 8, 1973 and entitled Bay River Estates, copy of which is recorded in Map Book 7 at Page 13, Pamlico County Registry, said lot also being that lot containing 0.500 acre, as shown on that map entitled "Survey for Michael Nord", prepared by Baldwin and Associates, Professional Land Surveyors, dated March 9, 2006, which survey map at attached hereto and incorporated herein by reference.
As an appurtenance to the above-described lot there is conveyed herewith a perpetual easement, to be enjoyed in common with grantors and others having similar rights, for ingress, egress and regress to and from the Western end of Bay River Drive as shown on said map and the Lynch Beach Road (Secondary Road 1218) over and along the existing road.
Being the same property conveyed to Michael J. Nord from Oriental Boulder, LLC, a North Carolina Limited Liability Company by Warranty Deed as set forth in Book 466, Page 281 recorded on 03/30/2006 recorder of Deeds Pamlico County, State of North Carolina.
And Being more commonly known as: 601 Blue Heron Dr, Bayboro, NC 28515
The record owner(s) of the property, as reflected on the records of the Register of Deeds, is/are Michael J. Nord.
The property to be offered pursuant to this notice of sale is being offered for sale, transfer and conveyance "AS IS, WHERE IS." Neither the Trustee nor the holder of the note secured by the deed of trust, being foreclosed, nor the officers, directors, attorneys, employees, agents or authorized representative of either Trustee or the holder of the note make any representation or warranty relating to the title or any physical, environmental, health or safety conditions existing in, on, at or relating to the property being offered for sale. Any and all responsibilities or liabilities arising out of or in any way relating to any such condition expressly are disclaimed. This sale is made subject to all prior liens and encumbrances, and unpaid taxes and assessments including but not limited to any transfer tax associated with the foreclosure. A deposit of five percent (5%) of the amount of the bid or seven hundred fifty dollars ($750.00), whichever is greater, is required and must be tendered in the form of certified funds at the time of the sale. This sale will be held open ten days for upset bids as required by law. Following the expiration of the statutory upset period, all remaining amounts are IMMEDIATELY DUE AND OWING. Failure to remit funds in a timely manner will result in a Declaration of Default and any deposit will be frozen pending the outcome of any re-sale. If the sale is set aside for any reason, the Purchaser at the sale shall be entitled only to a return of the deposit paid. The Purchaser shall have no further recourse against the Mortgagor, the Mortgagee, the Substitute Trustee or the attorney of any of the foregoing.

SPECIAL NOTICE FOR LEASEHOLD TENANTS: If you are a tenant residing in the property, be advised that an Order for Possession of the property may be issued in favor of the purchaser. Also, if your lease began or was renewed on or after October 1, 2007, be advised that you may terminate the rental agreement upon written notice to the landlord, to be effective on a date stated in the notice that is at least 10 days, but no more than 90 days, after the sale date contained in the notice of sale, provided that the mortgagor has not cured the default at the time notice of termination is provided. You may be liable for rent due under the agreement prorated to the effective date of the termination.
The date of this Notice is April 12, 2017.

Grady I. Ingle or Elizabeth B. Ells
Substitute Trustee
10130 Perimeter Parkway, Suite 400
Charlotte, NC 28216
(704) 333-8107
http://shapiroattorneys.com/nc/

---

NOTICE TO CREDITORS
Estate of Mary I. Fineout
File No. 17E64

Having qualified as Administrator of the Estate of Mary I. Fineout late of 6010 Harbour Way, Oriental, Pamlico County, North Carolina 28571, the undersigned does hereby notify all persons, firms and corporations having claims against the estate of said decedent to exhibit them to the undersigned at 408 Main Street, P.O. Box 411, Bayboro, North Carolina 28515, on or before the 19th day of July, 2017, or this notice will be pleaded in bar of recovery. All persons, firms and corporations indebted to the said estate will please make immediate payment to the undersigned.
This the 19th day of April, 2017.

Elizabeth E. Robinson, Executrix
Estate of Mary I. Fineout
Elizabeth E. Robinson, Executrix
c/o Sara L. Delamar
Delamar & Delamar, PLLC
408 Main Street
P.O. Box 411
Bayboro, N.C. 28515

For Publication: 4/19,4/26 & 5/03, 5/10

---

NORTH CAROLINA
IN THE GENERAL COURT OF JUSTICE PAMLICO COUNTY SUPERIOR COURT DIVISION

NOTICE TO CREDITORS AND DEBTORS
OF WILLIAM T. FREEMAN

Having qualified as Executor of the Estate of William T. Freeman, late of North Augusta, South Carolina, the undersigned does hereby notify all persons, firms and corporations having claims against the estate of said decedent to exhibit them to the undersigned at 35 Timberidge Drive, North Augusta, GA 29860, on or before the 26th day of July, 2017, or this notice will be pleaded in bar of their recovery. All persons, firms and corporations indebted to the said estate will please make immediate payment to the undersigned.
This 19th day of April, 2017


Carol B. Freeman
25 Timberidge Drive
North Augusta, GA 29860

Publish: April 19, 26, May 3, 10, 2017
HOLLOWELL & HOLLOWELL
P.O. Box 218
Bayboro, NC 28515

---

NORTH CAROLINA
IN THE GENERAL COURT OF JUSTICE PAMLICO COUNTY SUPERIOR COURT DIVISION

NOTICE TO CREDITORS AND DEBTORS OF
CHAUNCEY E. LUCE
File No.: 17 E 68

All persons, firms and corporations having claims against CHAUNCEY E. LUCE, deceased, are notified to exhibit them to VIRGINIA McLAUGHLIN, Executrix of the Estate, on or before June 20, 2017, at the address listed below or be barred from their recovery. Debtors of the decedent are asked to make immediate payment to the above-named Executrix. This 26th day of April, 2017.

Virginia McLaughlin, Executrix
Estate of Chauncey E. Luce
413 Edinborough Ave.
Raeford, NC 28376

Publish April 26, May 3, 10 and 17, 2017.