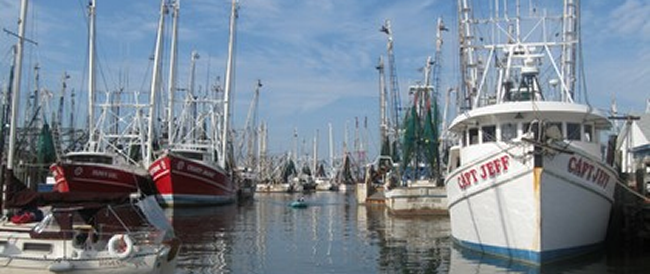 NAACP Freedom Fund Banquet
The NAACP Freedom Fund Banquet will be held at the Delamar Center at Pamlico Community College on Saturday, September 30, 2017. The doors open at 5:00 PM and the program will begin at 6:00 PM. There will be dinner and entertainment and the featured speaker will be Gregory Brad Cutler. Tickets are $25.00 and are available at the Inland Waterway Provision Company in Oriental and at the Daily Bread Christian Bookstore in Bayboro. For more information contact Vickie Moseley-Jones at (252) 675-5277.
Goose Creek State Park Palmetto Boardwalk Hike
Saturday, September 9 at 10 a.m. Take a one-mile walking tour of the boardwalk and hike through our upland pine forests and through the Palmetto Swamp. Meet at the Visitor Center. Call the park office at 252-923-2191 for more details.
Annual Women's Day Service At Mt. Olive Missionary Baptist Church
On September 17th there will be an 11 a.m. service with Rev. David Bailey and 3 p.m. service with Minister Johnann Sawyer at Mt. Olive Missionary Baptist Church, 9335 NC Hwy 304, Mesic, 288515. Contact Mother Hilda Gibbst at 252-745-3365 for more information.
Partnership Play Group
Wednesday Mornings at Pamlico Primary School, Room 205. Choose from one of the following times to attend: 9:00-10:15 am Or 10:30-11:45 am. Children (birth to age 3) along with their caregiver are invited to participate in a FREE weekly Partnership Play Group, provided and lead by Pamlico Partnership for Children! Children will meet and play with other children, and have fun while learning with age appropriate toys, art activities, music, and snacks. Caregivers will also get a chance to meet other parents, grandparents and caregivers. Please contact Michelle Shields at Pamlico Partnership for Children for more information, 252-745-7850 or michelle@pamlicopartnership.org
Antioch Congressional Christian Church The 3 R's
Renewed, Refreshed, Revived. Sept. 13th - 15th at 7:30 pm-nightly. Bishop Donald Grooms, Faith Tabernacle of Praise, Beaufort, NC. 4818 NC 304, Bayboro (Maribel Community) Call 745-3079 for more information.
Pamlico Amateur Radio Society
The Pamlico Amateur Radio Society will hold it's monthly meetings on the last Saturday of the month. The meetings will be held in the back room of Brantley's Restaurant in Oriental from 9 am to 10 am. Everyone is welcome as well as amateur radio enthusiasts. Please park in the back to allow for customer parking. The Pamlico Radio Society also provides assistance with local EMS services.
Minnesott Golf & Country Club Live Oak Grill Open Sundays
Serving delicious full breakfast and lunch from 8:30 to 2:30 p.m. Everyone is welcome. Come out and enjoy the view. Large groups should call ahead. 249-0813.
Free ReFIT® Classes
Free REFIT® classes will be held most Tuesday evenings from 6-7pm at the Delamar Center at Pamlico Community College. REFIT® is a workout program that is structured around cardio-dance movements, toning and flexibilit, strength training and stretching. REFIT® uses value positive, energetic, and family-friendly music in multiple genres and is designed for all shapes, sizes, and fitnes levels. The Delamar Center's schedule on the PCC website will have classes listed, follow "REFIT® Pamlico" on Facebook, or call Yolanda at 828-421-7981.
Pamlico County Public Library Friends of the Library Book & Bake Sale!
Saturday, September 9 from 10am - 2pm. Book Sale continues until Thursday, September 14. Satisfy your sweet tooth and fin some good reads! Adult Paperbacks - 50¢; Adult Hardbacks - $1.00; Children's Paperbacks - 25¢; Children's Hardbacks - 50¢. Fill a bag all day Wednesday, September 13 for $5.00. Bake Goods provided by the Daisy's Girl Scout Troop. Proceeds benefi the Pamlico Public Library.
Mineo Bingo At Minnesott Golf & CC
Minnesott Golf & Country Club Bingo Night Wednesday, September 6th. $10 for a pack of 10 Cards go on Sale at 5:30 pm. A Dinner is available for $8 at 6 pm and PLAY begins at 6:30 pm. Bingo takes place on the Wednesday of the 3rd week after the last bingo event. Everyone is Welcome! Hope to see You there!
Oriental Farmers Market
Open every Saturday from 8:30 to 11:30 a.m. Located on Hodges Street in front of Garland Fulchers Seafood. The market features a wide variety of goodies including locally grown produce, farm fresh eggs, home-baked breads, biscotti, cookies, cakes, pies as well as preserves and chocolates.
New Bern Farmers Market
Grow it, Sew it, Make it, Bake it...Saturday, September 9: Meat, Dairy, Eggs, Fruit, Veggies, Herbs, Flowers, Micro-Greens, Wine, Canned & Baked Goods, Sheep, Goat & Bee Products, grown and made by Local Farmers. Now accepting SNAP/EBT. Open Saturdays from 8 a.m. to 2 p.m. and Tuesdays from 10 a.m. to 2 p.m. Located at 421 South Front Street in Downtown New Bern. Vendor space available. Call 252-633-0043.
Oriental History Museum's Annual Fall event
The annual fall event at Oriental's History Museum will take place on October 14. This year's program will include a Silent Auction, wine tasting by Nautical Wheelers, sale of raffl tickets for a dragon quilt, and Civil War artifacts both inside and out. The Museum is asking for donations to its Silent Auction from local residents and friends of the museum. Please call us at 252-249-3340 or send an email to museum@dockline.net if you have an item to donate.
Goose Creek State Park Poetry Reading On The Pamlico
Friday, September 15 at 7:30 p.m. Come drink coffee and enjoy a sunset poetry reading at the swim beach in the park. All ages are invited to read poetry of their choice. There are picnic tables, but you may bring your own chair. The swim beach is about a .15-mile leisurely walk from the second parking lot. Swimmers are welcome. Call the park offic at 252-923-2191 for more details.