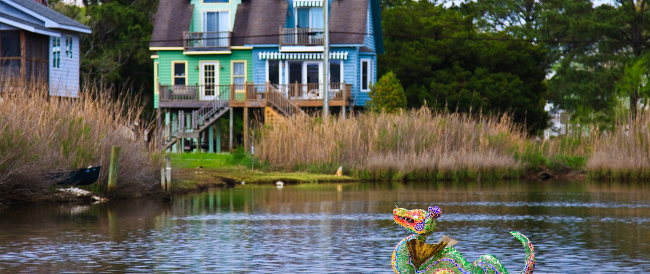 HURRICANE MATTHEW RECOVERY PROGRAM DEADLINE MAY 31ST
Eligible North Carolinians whose homes were damaged by Hurricane Matthew have until May 31 to apply with ReBuild NC for help with repairs or rebuilding. The help comes from single-family housing recovery programs available through the state's Hurricane Matthew Community Development Block Grant – Disaster Recovery funding. Homeowners who wish to apply should call 2-1-1 between 9 a.m. and 5 p.m. Monday through Friday to schedule an appointment at an Application Center in Bladen, Columbus, Cumberland, Edgecombe, Lenoir, Pender, Robeson or Wayne counties. A complete list of centers, including hours of operation and addresses, is available online at https://www.rebuild.nc.gov/application-centers. Homeowners who have no way to travel to an Application Center can call 2-1-1 to request assistance.
HURRICANE COMMUNITY FORUM IN ORIENTAL, JUNE 12, 2019, 6-8 PM
The National Weather Service in Newport/Morehead City, NC will be conducting a community forum on hurricanes on June 12th from 6-8 pm. The class will be held at the Oriental Town Hall located t 507 Church Street in Oriental, NC. The forum is free and open to everyone; no age requirements. All are welcome! The goal of these forums is to teach you more about hurricane preparedness while giving you a chance to ask any questions you may have. If you have any questions please call 252-223-5122 ext. 5 or send an email to erik.heden@noaa.gov
COASTAL WOMEN'S SHELTER
The Coastal Women's Shelter 21st Annual 5K/10K/1 Mile Run for Shelter will be held on Saturday, June 8, 2019 at Creekside Park. Registration will begin at 7am; the run begins promptly at 8am. Registration cost is $25; please call 252-638-4509 or email cwsfundd@coastalwomensshelter.net for more information.
QUILTING
Every Friday, 9 am - 12 pm
403 Mildred Street, Oriental
PAMLICO SBC
GETTING MORE BUSINESS WITH FACEBOOK PAID ADS FOR BUSINESS OWNERS
With less than 3% of your customers seeing your post on Facebook today, it is more useful to view Facebook as a powerful paid advertising platform than a free social media site. With Facebook ads, you can display your best content in front of key customers that have clearly self-identified themselves as good customers by their interest on Facebook. You can get started with Facebook ads with as little as a few dollars per ad. Friday, May 31, 6-9 pm
GOOGLE PAID-PER-CLICK AND GOOGLE ADWORDS EXPRESS BASICS
This seminar will show you how to set up successful, efficient, targeted campaigns on Google AdWords and the basics of setting up a successful campaign. You will leave the seminar knowing how to set up Google paid-per-click advertising for your business in a simple way that you can manage in-house. Saturday, June 1, 9-12 pm
FUNDAMENTALS OF GOOGLE ANALYTICS FOR SMALL BUSINESS OWNERS
This seminar will teach you how to set-up basic Google Analytics on a WordPress website and how to understand reading Google Analytics. Pre-registration is not required but strongly encouraged to ensure the seminars meet. Seminars will be held at the Bayboro Center, 701 Main Street.
CRAVEN COMMUNITY COLLEGE
ADULT ENRICHMENT PROGRAM
DRAWING FOR PAINTERS
This is a studio class for artists who do not seek anatomy, shading, or non-carbon-based drawing skills (ink, crayon, or sepia). It is strictly centered on a solid foundation of perspective, rapid gesture and composition principles to help you establish a structure on which to paint better and compose your art with ease. Thursdays, June 6-27, 9:30-11:30 am, $125
WATERCOLOR PAINTING-BEGINNER'S
A strong basic instruction and comprehension of color theory, watercolor processes, leading to 4 completed paintings. Each class will include one on one instruction, demonstrations, and critique of student's development with attention to areas the student needs for success. Wednesdays, June 5-26, 9:30-12:30 pm, $120
SILK SCARF DYEING
A great way to make your own wardrobe statement, painting 100% silk scarves. All materials are provided, and you keep the two scarves. No art skill is needed, just willingness to let your mind go wild with color and "found" objects (bobby pins, Clothes clips, rubber bands, etc.) Tuesday, July 16 or August 13, 9:30-11:30 am, $40
SHIBORI DYEING
In this two-hour hands-on workshop, Julia McDonald will demonstrate the basics of Shibori, a Japanese dyeing technique dating from the 8th Century. It is an addictive and fascinating type of dyeing that is currently in the spotlight, a type of dyeing that uses various methods of manipulating the fabrics to achieve desired effects. Participants then have the fun of using one or more of these techniques on two 8"X 54" silk scarves or 22" square cotton bandanas provided by the instructor. After immersion in a traditional Indigo dye bath they will have created their own unique masterpiece. Since there are an infinite number of ways one can bind, stitch, fold, twist, or compress cloth for shibori, each way results in very different exciting patterns. Saturday, October 5, 10-12 pm or 1-3 pm, $40
INTRO TO SELLING ON EBAY
Want to learn how to earn spare cash? Have you ever wanted to join the millions who sell items on eBay but didn't understand the process? Well, fear no more! John Lawrence, who has bought and sold on Ebay for the past 15 years, will take students through the process so they can begin selling items with confidence. This comprehensive six-session class will cover the history of eBay, requirements for selling, how to get started, understanding eBay help menus, setting up accounts, how to prepare & take photos, list items and what to do once your item is purchased. So, get your collectibles, decor, appliances, computers, furnishings, equipment, vehicles and other miscellaneous items ready to sell on Ebay! Thursdays, Sept 19-Oct. 24, 6-8 pm, $80
PHOTOSHOP ELEMENTS
This three-session class teaches the elemental basics of Adobe Photoshop Elements. Students learn how to use the tools available in the software to edit their own photos so that they look more professional and how to create their own images from a blank screen. This class is for both photographers that would like to learn about editing their own photos as well as for artists that would like to be able to present their work better online. Students will learn about each of the options available in the toolbar, working with layers, masking, font use and filters. The basics of cutting and pasting, and merging images will be covered. Thursdays, Oct. 4-18, 6-8 pm, $75
SCUBA OPEN WATER CERTIFICATION
Become a certified Scuba diver! If you have always wanted to take SCUBA diving lessons, experience unparalleled adventure, and see the world beneath the waves, this is where it starts. Get your SCUBA diving certification with the NAUI Open Water Diver course. Course starts May 31st. Contact Inman Campbell at (910)465-1902 or BlackBeardScuba.com for more information.
NC DOT COMMNITY ENGAGEMENT
Small Business Contracting Opportunities
Thu 5/30/19 8 a.m.-3 p.m.
SIGN UP > www.cravencc.edu/sbc
PCHS CLASS OF 1979 4OTH REUNION will be Oct. 12, 2019 at 6:30 at The Chelsea. The cost is $50 per person. Mail payment to Donna Rice, PO Box 62, Simpson, NC 27879. For more information connect with us on Facebook - Pamlico County High - Class of 79 or contact Donna at donnahrice1@gmail.com.
UNDERGROUND ARTISTS OF ENC MEETUP
Are you an artists or entertainer looking to meet people that share your passion for all things art? Undergound Artists meets every other Saturday to discuss art, collaborate, and to plan our upcoming community art Summer Solstice event. Join us on Saturday, May 25th at 1 pm at Bellas Cafe in New Bern. All are welcome! For more info join our Meetup group https://www.meetup.com/Underground-Artists/
THE BEARS- EASTERN NC'S FAVORITE 'OLDIES' BAND IS PLAYING OUTSIDE AT THE MINNESOTT GCC ON FRIDAY, MAY 24TH - 7-9:30 PM