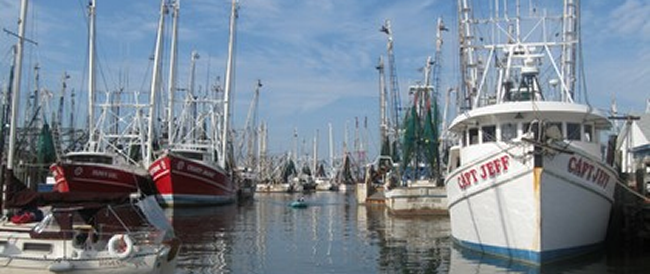 REFIT® at Pamlico Community College
Free REFIT® classes will be held most Tuesday evenings from 6-7pm at the Delamar Center at Pamlico Community College. The next class will be on June 27th. REFIT® is a workout program that is structured around cardio-dance movements, toning and flexibility, strength training and stretching. REFIT® uses value positive, energetic, and family-friendly music in multiple genres and is designed for all shapes, sizes, and fitness levels. For info, the Delamar Center's schedule on the PCC website will have classes listed, follow "REFIT® Pamlico" on Facebook, or call Yolanda at 828-421-7981.
Pamlico Co. Fishes and Loaves
Pamlico Co. Fishes and Loaves Outreach to be active during the Croaker Festival. PCFLO is still selling raffle tickets for their custom made 8' boat. The Tickets will be available at their booth at the Croaker Festival. The boat will be raffled off Saturday at 3 pm. While at the booth find out about PCFLO and what they do for Pamlico County. They are always in need of more volunteers to help supply the thousands of pounds of food to the needy of our area.
In the Croaker Festival parade this year PCFLO has paired with the local Scouts to collect food for the outreach program. The Scouts parade float theme will be "fishing for food for PCFLO". The Scouts will be collecting food along the parade route. Please bring non-perishable food to keep the Scouts busy and proud that they are helping such a good cause.
Goose Creek State Park Mallard Creek Hike
Saturday, June 24 at 10 a.m. Meet in the last parking lot to hike the Mallard Creek loop. The hike will go through beautiful forests and to a pier overlooking Mallard Creek. The hike will be about one mile on flat terrain. Call 252-923-2191 for more information.
Toddler Partnership Play Group
The Pamlico Partnership For Children Play Group is held on Wednesday mornings at both 9 a.m. and 10:30 a.m. at the Pamlico Primary School, room 205. Children from birth to age 3 along with their caregiver are invited to participate in a Free weekly play group. Children will meet and play with other children and have fun while learning. Please contact Michelle Shields at 252-745-7850 or michelle@pamlicopartnership.org.
Summer Partnership Playgroup
FREE program for children ages 0-3 along with their caregiver. Learning through fun, music, art, craft……. Starting Tuesday, June 20 from 10:00-11:00 a.m. at the Pamlico Partnership for children located at 702 A Main Street. To sign up or for information call 252-748-7850.
Water Aerobics At Minnesott Golf & CC
Cool off and get a great workout! Classes are held on Mondays, Wednesdays and Fridays starting at 9 a.m. Class is free for Members and $25 for Non-members. Visit www.minnesottgolf.com or call 249-0813 x 1 for more information.
PCHS Class of '77 40-Year Reunion Planned
Pamlico High School Class of 1977 will celebrate its 40-Year Reunion on Saturday, August 12, 2017 at the Delamar Cen-ter, Pamlico Community College. Other events scheduled for the weekend include a Friday evening Meet & Greet, and Sunday Worship and Luncheon. Cost is $30 Classmates, $20 Guests (covers all but Sunday lunch). Deadline to register is June 30. All members of our class over the years as well as our teachers are invited to attend. Details are posted on our Facebook Group page, or contact Christine Moore, Jacqueline Miller Roberts, or Nancy Prescott Potter.
Breakfast And Lunch At Minnesott Golf and Country Club on Weekends
Sometimes you just want a nice bacon and egg breakfast on a Saturday or Sunday morning. The Live Oak Grill is offering a weekend breakfast menu from 8:30 AM to 11:30 AM and a lunch menu from 11:30 AM to 2:30 PM. The breakfast menu also offers French Toast! The lunch menu will feature their famous "Bubba Bites," as well as burgers and chicken sandwiches. All are welcome - and you may even get to see Bubba! We think he'd taste like chicken too.
BBQ Chicken Dinner To Support HeartWorks
Saturday, June 24, at the Delamar Center at Pamlico Community College from 5:00 to 6:30 PM. Sponsored by Pamlico Progressives and Pamlico County NAACP. 100% of the ticket sales go to HeartWorks. Tickets are $10 for adults and $5 for youth/children under 16. Tickets are available in Oriental at Nautical Wheelers and the Inland Waterway Provision Company and in Bayboro at the Bayboro Pharmacy. For more information about tickets, call Betsy Quitkin at 249-2940.
Pamlico County Public Library
Family Movie: Lego Batman. Friday, June 16 @ 6 pm. There are big changes brewing in Gotham, but if Bat-man wants to save the city from the Joker's hostile take-over, he may have to drop the lone vigilante thing, try to work with others and maybe, just maybe, learn to lighten up. Maybe his superhero sidekick Robin and loyal butler Alfred can show him a thing or two.
Operation Veggie Box Corn JAM!
Operation Veggie Box will hold its annual Corn Jam on Friday, June 30 beginning at 6 a.m.near Camp Don Lee. The actual address is 447 River Road, Arapahoe. Camp Seafarer is stepping up big again and will be providing at least 30 volunteers to help pick corn! You can help too! Thanks to everybody's efforts to date and come join the fun as we count down thedays to our 4th Annual Operation Veggie Box Event and our 4th Annual North Carolina Corn JAM!
Shoe Drive To Raise Money To Purchase Service Dog
Oriental United Methodist Church is collecting wear-able shoes. This is a fundraiser to help Alexis, age 15 who has Type I Diabetes to purchase a Diabetic Alert Serive Dog. Collection box for paired shoes is located at Oriental United Methodist Church. For more information please contact Joan Lilley at 249-2690.
Mineo Bingo At Minnesott Golf & Country Club
Minnesott Golf & Country Club Bingo Night. Wednesday, June 14. $10 for a pack of 10 Cards go on Sale at 5:30 pm. A Ham Steak Dinner is available for $8 at 6 pm and PLAY begins at 6:30 pm. Bingo takes place on the Wednesday of the 3rd week after the last bingo event: June 14th, July 5th and July 26th. Everyone is Welcome! Hope to see You there!
Save The Date For Mad Hatter Beach Ball
Pamlico Partnership for Children will hold The 5th Annual Mad Hatter- "Beach Ball" on July 22 at 6:00 pm at the PCC Delamar Center. They are currently seeking donors and sponsors for the event. Tickets will go on sale in April. Please call 252-745-7850 for more information.
Alzheimer's Dementia Caregiver Support
Are you, or someone you know, caring for a loved on with Alzheimer's or Dementia? This can be very chal-lenging, and there is support available. You are invited to the Alzheimer's/Dementia Caregiver Support Group Meeting at the Pamlico County Senior Center the firstand third Monday of the month at 2 p.m. For more information call Beth Hardison at 745-7196.
Oriental Farmers Market
Open every Saturday from 8:30 to 11:30 a.m. Located on Hodges Street in front of Garland Fulchers Seafood. The market features a wide variety of goodies including locally grown produce, farm fresh eggs, home-baked breads, biscotti, cookies, cakes, pies as well as preserves and chocolates.
New Bern Farmers Market
Grow it, Sew it, Make it, Bake it...New Bern Farmers Market is now accepting SNAP/EBT. Open Saturdays from 8 a.m. to 2 p.m. and Tuesdays from 10 a.m. to 2 p.m. Located at 421 South Front Street in Downtown New Bern. Vendor space available. Call 252-633-0043.
NAACP Monthly Meeting
The NAACP of Pamlico County will hold its regular monthly meeting on the second Monday of each month at 6 p.m. at the Pamlico County senior Services Center at 800 Main Street in Alliance. All interested persons are invited and welcome to attend.