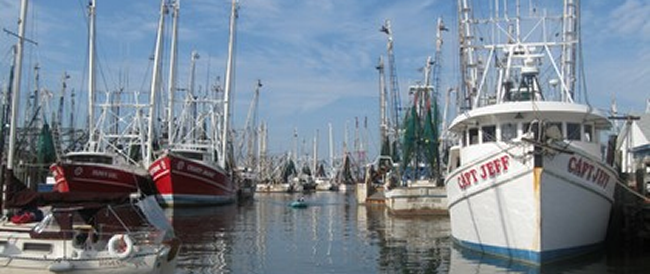 Goose Creek State Park Long Leaf Pine Restoration
Saturday, October 21 at 10 a.m. Meet at the visitor center for a presentation on the current long leaf pine forest restoration at Goose Creek State Park. Come prepared for a short walk through the restoration area. Call the park offic at 252-923-2191 for more details.
PC Museum And Heritage Center Reception
The Pamlico County Museum and Heritage Center will hold a reception and opening of a new exhibit on Friday, October 27, from 6 to 8 p.m. at the museum in Grantsboro. The exhibit is "In Search of a New Deal: Images of North Carolina from 1935 - 1941. The photography exhibit features photographs depicting the effects of the depression on the people of North Carolina. Music will be provided by Jazz4. Refreshments will be served. There is no admission charge. For more information, contact Pat Prescott at 252-745-2239.
Parkinson's Exercise Prescription Retreat
Learn which exercises work best for you and how to use them to treat your Parkinson's Disease on October 28-29 at Village Health And Fitness in Oriental. Registration for the 2-day event is $75. This includes all lectures and exercise sessions plus lunch both days for PWP and their partner. Pre-registration and medical releases required. Call 249-1869 or go to PEPretreat.com
Hospice Of Pamlico County 2nd Annual Glow Run
The 2nd annual Hospice of Pamlico County, Inc. 5k Glow Run will be held on November 18 at 6 p.m. The 5k Glow Run will be a run/walk for participants of all ages and activity levels and will begin and end in Lou Mac park in Oriental. There will be live music and food provided by the Oriental Rotary Club. For more information call 745-5171.
Pamlico Partnership for Children, Executive Committee Meeting
October 26, 2017 at 1:00 pm. Partnership office 702A Main Street Bayboro NC 28515Fairfield Harbou Harvest Craft FairThe Fairfiel Harbour Harvest Craft Fair will be held on Saturday, November 11 from 9AM until 2PM at the Fairfiel Harbour Community Center at 585 Broad Creek Rd, next to the Fire Station. Plenty of parking and both breakfast and lunch are available thanks to the Harbour Hospital Auxiliary, which uses the funds to support their activities. Craft items include artwork, books, and quilts, handmade items to include pottery, soaps, creams, holiday wreaths, decorations and ornaments. Come early to start your holiday shopping. Raffl proceeds benefi the FH Garden Scholarship Fund. For more information about this information contact Karen Dodd 229-2033
S.W. Snowden 3rd Annual 5K Color Fun Run & Fall Festival
Saturday, November 18th. Race Pre-registration $20 by 10/27/17 and t-shirt is guaranteed. Registration day of $25 and t-shirt is not guaranteed. Registration starts at 8:30 a.m. Race begins at 9 a.m. Fall Festival begins at 11 a.m. with food, games and prizes. For more info. call 322-5351. Come support our local school. It will be a fun, colorful day!
Partnership Play Group
Wednesday Mornings at Pamlico Primary School, Room 205. Choose from one of the following times to attend: 9:00-10:15 am Or 10:30-11:45 am . Children (birth to age 3) along with their caregiver are invited to participate in a FREE weekly Partnership Play Group, provided and lead by Pamlico Partnership for Children! Please contact Michelle Shields at Pamlico Partnership for Children for more information, 252-745-7850 or michelle@pamlicopartnership.org
Oriental Dance Club Halloween Dance Party
Come out for a night of dancing on Friday, October 27th from 7 - 10 p.m. at the Oriental Woman's Club 1007 Gilgo Road in Oriental. Sponsored by the Oriental Dance Club. There is a $10 entry fee which includes: mixers; setups; snacks and ice. D.J. with flexibl play list. Just ask for what you want to dance to!
OWC Gift Bazaar
November 4th from 9 to 3 p.m. at the OWC clubhouse from 9 to 3 PM. Come for the wonderful and unique handcrafted gifts as well as those delicious cookies by the pound. On December 12th, 11:30-2:00 the Oriental Woman's Club will host its annual Christmas luncheon to raise funds for local scholarships. This is an annual event and proceeds go to awarding a few of the counties top students scholarships to assist in their college endeavors. The event is open to the general public. Join us for a catered lunch, games and music as we celebrate the season. Tickets are $15 and are available at First Citizens Bank and through the OWC.
Pamlico County Public Library
Friday, October 20th: Preschool Storytime at 10 a.m., YA Gaming at 3 p.m.; Tuesday, October 24th: Knitting at 1 p.m. and Basket Weaving at 5:30 p.m.; Saturday, October 28: Trunk Or Treat at 11 a.m.
Mineo Bingo At Minnesott Golf & Country Club
Bingo Season Finale at Minnesott Golf & CC Wednesday, October 18th! Special Fun and Games! Cards go on sale at 5:30, $8 Dinner Available at 6:00PM and PLAY BEGINS at 6:30. Packet of 10 Sheets is $10. Minneo Bingo is Slated to Return at MGCC Winter 2018
Minnesott Golf & CC 2nd Annual Poker Fun Run
Saturday, October 21st. Everyone is welcome. Hands go on sale at noon at the Club House and play begins at 2:30 p.m. 5 Card Stud, best out of a possible 7 cards wins! Food will be served following. Reservations recommended. Call 249-0813 or email: admin@minnesottgolf.com.
Oriental Farmers Market
Open every Saturday from 8:30 to 11:30 a.m. Located on Hodges Street in front of Garland Fulchers Seafood. The market features a wide variety of goodies including locally grown produce, farm fresh eggs, home-baked breads, biscotti, cookies, cakes, pies as well as preserves and chocolates.
New Bern Farmers Market
Grow it, Sew it, Make it, Bake it... Now accepting SNAP/EBT. Open Saturdays from 8 a.m. to 2 p.m. and Tuesdays from 10 a.m. to 2 p.m. Located at 421 South Front Street in Downtown New Bern. Vendor space available. Call 252-633-0043.
Hyde Historical Society Fall Meeting Oct. 22 In Scranton
The Hyde Co. Historical & Genealogical Society will hold its fall meeting on Sunday, Oct. 22, at the Scranton Christian Church (290 Old Highway 264) in Scranton. The meeting begins at 2:30 p.m. and will feature two speakers: Bill Griffin a Scranton native, will talk about his Scranton memories and Catherine Anderson, a specialist in preserving cemetery grave markers, will speak about the dos and don'ts for working with cemetery markers. Anyone interested in the history of Hyde Co. is welcome to attend the meeting.