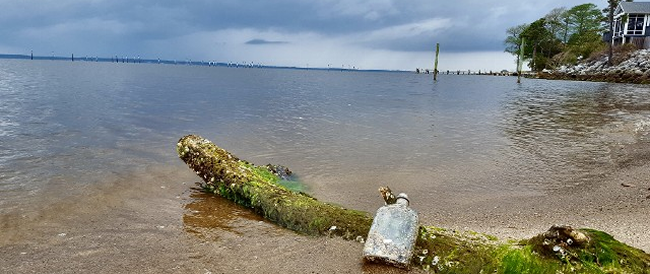 ---
See our new "Socially Civic" page on 9A to find out about volunteer opportunities and events in your community.
---
Potter's Market

Potter's Market is having an open house November 16th & 17th from 10:30 am to 5 pm in Alliance. Join us for shopping and a cup of soup!
Important information Recovery Assistance and Disaster Recovery Assistance
Dear current or prospective small business owner, As Hurricane Florence fast approaches the north Carolina coast, we want to remind you that we stand ready to assist you with business recovery efforts in the aftermath of the storm. We can assist business owners and farmers with: General business counseling and assessment of the economic impact on your business Reconstructing the financial information for your business Completing SBA Loan and NC Rural Center Bridge applications Exploring other capital resources and federal, state and local resources Building a more resilient business as you move forward We'll be joining forces with our strong resource partners including the nC Rural Center, the SBTDC, the U.S. SBA, BLNC and NC department of Agriculture to ensure you have access to the most information and resources as you work through the recovery process. Please stay safe in the storm. Please share this message with all who could benefit from this assistance. Our thoughts and prayers are with you and your families. We'll be in touch with more information after the storm. You can also visit our website at Register for Counseling to complete a request for counseling or email us at mmoore@pamlicocc.edu to let us know how we can help. Also, please note that the college will be closed this next week and that I will be in contact regarding the place and time that these services will be available. As always, please be safe! Mindy Moore, director Pamlico small Business Center 252.745.7348 252.571.2243 Visit our website Pamlico CC small Business Center | 705 Main st., Bayboro, nC 28515
PC Republican Party
The PC Republican Party meets the 4th Tuesday of the month at their GOP Headquarters at 618 Main street, Bayboro at 6:30 pm. Contact Chairman dave Wickersham at 252.269.4101 for further information.
Oriental Farmers Market
Open every saturday from 8:30 to 11:30 a.m. Located on Hodges street in front of Garland Fulchers seafood. The market features a wide variety of goodies including locally grown produce, farm fresh eggs, home-baked breads, biscotti, cookies, cakes, pies as well as preserves and chocolates.
Pamlico County Senior Center
County Senior Center the first and third Monday of the month at 2 p.m. For more information call Beth Hardison at 745-7196.
NAACP Monthly Meeting
The NAACP of Pamlico County will hold its regular monthly meeting on the second Monday of each month at 6 p.m. at the Pamlico County senior services Center at 800 Main street in Alliance. All interested persons are invited and welcome to attend.
Gardens of Pamlico
We need volunteers of any age to help with residents and brighten their day! Contact Kelly Lawson, 252-671-8251
Pamlico Community College
PCC's Fall Birding Class will begin on Tuesday, september 25 with a classroom orientation. Early morning birding trips around The County will take place on Tuesdays, October 2, 9 and 16. Birders are encouraged to mark their calendars now to participate in this enlightening and informative endeavor. To register, contact denise Myerson, dmeyerson@pamlicocc.edu, 252-249-1851 X 3113. The fee is only $40.
Pamlico Community College Cultural & Life Enrichment Opportunities
Greenhouse Basics Learn how to start and maintain a successful greenhouse – location, soils, environmental conditions, plant selection, and more! Students will use the college's greenhouse as a laboratory. Registration $70.00 Date: October 16, 2018 – December 11, 2018 Time: Tuesdays 5:00 p.m. – 8:00 p.m.
Bridge for Beginners: free! Learn to play the strategic and social card game – BRIDGE! Instructor: Craig Welling Location: Pcc Johnson Building Library Registration: Free! Date: October 23 – 25, 2018 (T, W, TH) Time: 5:30 p.m. – 7:00 p.m. Call 252.249.1851 ext. 3113 to register
Bridge for Beginners Phase ii : free! Learn advanced techniques for playing the strategic and social card game – BRIDGE! Instructor: Craig Welling Location: Pcc Johnson Building Library Registration: Free!Date: October 30 - November 1, 2018 (T, W, TH) Time: 5:30 p.m. – 7:00 p.m. Call 252.249.1851 ext. 3113 to register
RefiT® - free!REFIT® is a workout program that is structured around cardio-dance movements, toning and flexibility, strength training and stretching. Instructors: Yolanda Cristiani and Kacy Forbes Location: Auditorium, Delamar Building, Grantsboro campus Registration: Free!Date: TuesdaysTime: 6:00 p.m. – 7:00 p.m.
Grant Writing Develop effective grant writing skills that are essential for acquiring funding from foundations and government agencies! In this six-week session, a professional grant writer will take you from researching funding opportunities to writing the narratives and developing budgets to managing your grants. Registration $70.00 Start Date: November 3, 2018 Time: 9:00 a.m. – 12:00 p.m.