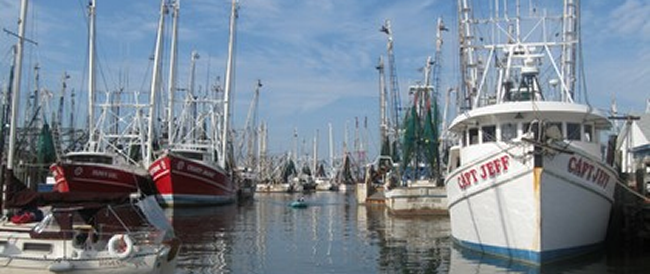 Check back often for stories after this week's edition is on press
NOT REAL NEWS: A look at what didn't happen this week
A roundup of some of the most popular, but completely untrue, headlines of the week. None of these stories are legit, even though they were shared widely on social media. The Associated Press checked these out; here are the real facts:
NOT REAL: Trump Just Ended Obama's Vacation Scam And Sent Him A Bill You Have To See To Believe
THE FACTS: This story claims President Donald Trump has cut off more than $2 billion earmarked for funding of former President Barack Obama's vacations through 2036. The story cites the source of the money as the Office of Presidential Visits and Vacations, which doesn't exist.
---
NOT REAL: NASA Confirms Earth Will Experience 15 Days Of Darkness In November 2017
THE FACTS: The sun will continue to shine on the world later this year, despite the claims in several stories circulating on social media. The stories cite a complicated interaction between Venus and Jupiter as the cause for the impending darkness. They say NASA Administrator Charles Bolden has sent the White House a 1,000-page paper on the topic. Bolden resigned when Trump took office. The stories have been circulating since at least 2015, with varying dates for the nonexistent blackout.
---
NOT REAL: Furious Chelsea Clinton Thrown To The Floor And Handcuffed After Senator Lindsay Scandal Linked To Clinton Foundation
THE FACTS: Not only was Chelsea Clinton not thrown to the floor and handcuffed, the New Jersey senator referred to in this story from thelastlineofdefense.org doesn't exist. An official list of all senators in U.S. history reveals only one with the last name of Lindsay; he represented Kentucky for about two weeks in 1893. Cory Booker and Robert Menendez represent New Jersey in the U.S. Senate. Nevertheless, the story is just one of several involving Clinton that refers to the nonexistent Sen. Lindsay.
---
NOT REAL: Cannibals Arrested In Florida Claim Eating Human Flesh Cures Diabetes and Depression
THE FACTS: A satire site, The Miami Gazette, published a widely shared piece with mugshots of three men. It quotes police in Vernal Heights, Florida, as saying the men were found eating human remains in a basement and saying that cannibalism helped cure their illnesses. Vernal Heights is not one of Florida's more than 200 municipalities. And the photograph of a man identified as the town's police chief comes from a Greek stock photo site.
---
NOT REAL: Democrat Maxine Waters Has Shown Up To Only 10% Of Congressional Meetings For 35 YEARS
THE FACTS: The sole evidence offered for the California congresswoman's attendance record is a post by a Reddit user. According to GovTrack, which keeps a record of lawmakers' voting habits, Waters has an attendance mark of more than 92 percent for roll call votes since coming to Washington in 1991. Waters made headlines earlier this year during a public tussle with now-fired Fox News host Bill O'Reilly.
This weekly fixture is part of The Associated Press' ongoing efforts to fact-check claims in suspected false news stories.
---
Jeff Sessions Asks Congress to End Medical Cannabis Protections
When President Donald Trump signed a $1.1 trillion spending bill last month, he seemed to scoff at a bipartisan provision that prevents the Justice Department from prosecuting state-legal medical cannabis. Now his attorney general, Jeff Sessions, wants to do away with the protection completely.
In a May 1 letter to congressional leaders, Sessions urged federal lawmakers to oppose the provision, known as the Rohrabacher–Blumenauer amendment. It's yet another sign that, despite the president's past support of medical marijuana, his administration appears to be planning a crackdown on state-legal cannabis. "I believe it would be unwise for Congress to restrict the discretion of the Department to fund particular prosecutions, particularly in the midst of an historic drug epidemic and potentially long-term uptick in violent crime," Sessions wrote in the letter. "The Department," he continued, "must be in a position to use all laws available to combat the transnational drug organizations and dangerous drug traffickers who threaten American lives." The letter, sent to Senate Majority Leader Mitch McConnell, Speaker of the House Paul Ryan, Senate Minority Leader Charles Schumer, and House Minority Leader Nancy Pelosi, was obtained by cannabis reporter and legalization advocate Tom Angell. To justify his request, Sessions trots out a parade of prohibitionist talking points. He references the ongoing opioid epidemic, for example, but fails to note that states with legalized medical cannabis have seen opioid deaths decline by an average of 25%. He wrings his hands over "transnational drug organizations and dangerous traffickers," but omits the fact that the Rohrabacher–Blumenauer amendment protects only state-legal cannabis actors.
And, for good measure, he notes that the DEA "concluded that 'marijuana has a high potential for abuse, no currently accepted medical use in treatment in the United States, and a lack of accepted safety for use under medical supervision'"—despite the growing body of research that suggests cannabis is safer and more effective than many Food and Drug Administration-approved pharmaceuticals. The Rohrabacher–Blumenauer amendment, last renewed in April, is set to expire in September if not renewed by Congress.
---
Trump restores some Cuba penalties, rejecting 'oppressors'
MIAMI (AP) - President Donald Trump declared Friday he was restoring some travel and economic restrictions on Cuba that were lifted as part of the Obama administration's historic easing. He challenged the communist government of Raul Castro to negotiate a better deal for Cubans and Cuban-Americans. Announcing the rollback of President Barack Obama's diplomatic opening during a speech in Miami, Trump said Cuba had secured far too many concessions from the U.S. in the "misguided" deal but "now those days are over." He said penalties on Cuba would remain in place until its government releases political prisoners, stops abusing dissidents and respects freedom of expression.
---
Trump confirms he's under investigation, fires angry tweets
WASHINGTON (AP) - President Donald Trump confirmed Friday he is under federal investigation and appeared to single out a senior Justice Department official for criticism, firing off tweets underscoring his growing frustration with the persistent focus on Russia's involvement in the 2016 election and possibly his campaign. "I am being investigated for firing the FBI Director by the man who told me to fire the FBI Director! Witch Hunt," the president wrote. The morning missive appeared to refer to Rod Rosenstein, the deputy attorney general. Last month, Rosenstein sent a memo to Trump raising concerns over FBI Director James Comey - concerns the White House then cited as a central reason for Comey's firing.
---
US keeps effort to shield young immigrants from deportation
WASHINGTON (AP) - The Trump administration is leaving in place a program protecting hundreds of thousands young immigrants from deportation - one that President Donald Trump had pledged to eliminate. Homeland Security Secretary John Kelly quietly announced the program will continue at the bottom of a fact sheet released late Thursday declaring the end to a similar, but never-implemented program intended to shield immigrant parents of U.S. citizens and legal residents from deportation. It said the memo creating the program for young immigrants "will remain in effect" without indicating whether this would be reconsidered in the future. As a candidate, Trump pledged to "immediately terminate" both programs - what he called "President Obama's two illegal executive amnesties." Yet as president, he repeatedly expressed empathy with the young participants in the program known as Deferred Action for Childhood Arrivals program, or DACA.
---
Cosby thanks supporters on 5th day of deliberations at trial
NORRISTOWN, Pa. (AP) - Bill Cosby thanked his fans and supporters on Friday as a jury deliberated sexual assault charges that could send him to prison for the rest of his life, tweeting shortly after the panel asked to review his testimony about giving drugs to women he wanted to have sex with. It was the first Twitter message from Cosby in more than a week and came as jurors spent a fifth day in talks, trying to break an impasse that has raised the possibility of a mistrial for the 79-year-old TV star. Cosby's lawyer objected in court Friday to the panel's repeated requests to review testimony, saying it suggested some jurors were trying to coerce other jurors in an attempt to bring an end to the deadlock.
---
Anger erupts in London over tower's feared renovation flaws
LONDON (AP) - Grief turned to outrage Friday over a deadly high-rise tower fire in London amid reports that materials used in the building's renovation could have fueled the inferno that left dozens dead and missing as it decimated the public housing block. Engineering experts say outside insulation panels installed on the 24-story Grenfell Tower may have helped the fire spread rapidly from one floor to the next. The Guardian newspaper reported Friday that contractors installed a cheaper, less flame-resistant type of paneling in the renovation that ended in May 2016. Tensions were high Friday two days after the overnight fire gutted the huge housing block, killing at least 30 people and leaving dozens missing and hundreds homeless.
---
Amazon buying Whole Foods in bold move into brick and mortar
NEW YORK (AP) - Amazon is buying Whole Foods in a stunning move that gives it hundreds of stores across the U.S. - a brand-new laboratory for radical retail experiments that could revolutionize the way people buy groceries. The deal valued at $13.7 billion unites the company that persuaded people to buy books - and then everything else - online with the grocery store chain that fell behind as shoppers found "good enough" alternatives to the organic and natural foods it helped popularize. Amazon already offers grocery-delivery services in five markets, but the Whole Foods purchase would let it expand to many more.
---
Uncertainty over Islamic State leader's fate after airstrike
BEIRUT (AP) - Uncertainty and confusion surrounded the fate of the head of the Islamic State group Friday as Russia announced it may have killed him in an airstrike targeting a meeting of IS leaders just outside the group's self-declared capital in Syria, but U.S. officials said there was no definitive proof of his death. The demise of Abu Bakr al-Baghdadi would be a severe blow to the extremist group as it fights to hang on to its strongholds in Syria and Iraq, although it was not clear how much operational control he retains over the organization whose capabilities keep evolving on the battlefield and beyond.
---
Girlfriend whose texts urged suicide guilty of manslaughter
TAUNTON, Mass. (AP) - A woman who sent her boyfriend a barrage of text messages urging him to kill himself when they were both teenagers was convicted Friday of involuntary manslaughter in a trial that raised questions of whether words can kill. Juvenile Court Judge Lawrence Moniz found that Michelle Carter caused the death of Conrad Roy III, who intentionally filled his truck with carbon monoxide in a Fairhaven store parking lot in July 2014. Carter cried and clutched a handkerchief to her face as Moniz detailed her conduct and the circumstances of Roy's death, but she was stoic when the verdict was formally pronounced.
---
Helmut Kohl, chancellor who reunited Germany, dies at 87
BERLIN (AP) - Helmut Kohl, the physically imposing German chancellor whose reunification of a nation divided by the Cold War put Germany at the heart of a united Europe, has died at 87. Kohl's Christian Democratic Union party posted on Twitter: "We are in sorrow. #RIP #HelmutKohl." The daily newspaper Bild reported that Kohl died Friday at his home in Ludwigshafen. Over his 16 years at the country's helm from 1982 to 1998 - first for West Germany and then for all of a united Germany - Kohl combined a dogged pursuit of European unity with a keen instinct for history.